Airline Ski and Snowboard Bag Fees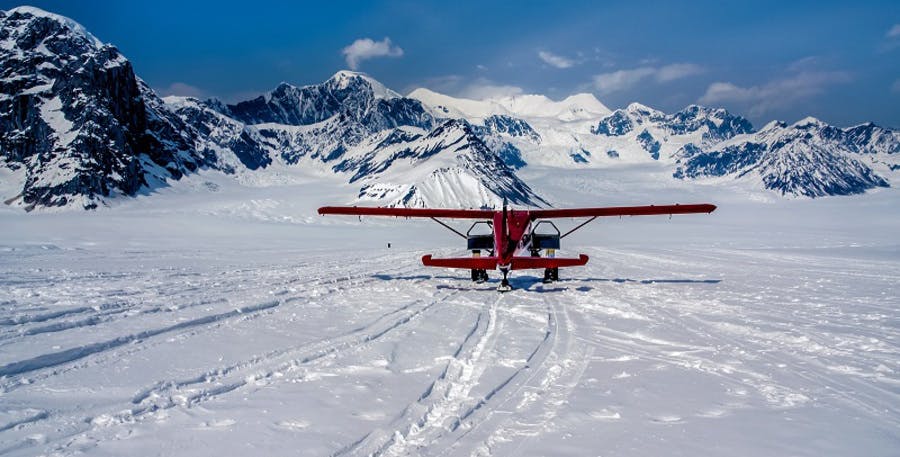 Written by Jack Lee
Last updated August 1, 2023
All airlines have special baggage policies for your skis and snowboards so we have put together a quick summary of how each domestic US airline treat your snow equipment!
In general, airlines allow snow equipment (skis / snowboard and boots) to count as one piece of checked baggage, even if the equipment is packed in two separate bags. However, you definitely want to keep an eye out for the following:
Overweight Baggage - Some airlines charge an overweight baggage fee if your snow equipment exceed the airline's prescribed weight limit while. The limit is generally between 18-23 kg.
Oversized Baggage - Some airlines waive the oversized baggage fee for snow equipment but others will charge a fee if the baggage exceed the prescribed size limit. The size limit is generally 62 to 80 linear inches (height + width + depth).
For your convenience, we have linked directly to the airline's baggage policy but airlines can change their baggage policies on the fly so it is always best to call the airline before your trip to verify their baggage policy.
One pair of skis with poles or one snowboard, plus one boot / helmet bag is counted as one checked bag. If boots and helmet are checked in a bag that also contains clothing or additional items, standard checked baggage fees will apply to the bag. The fee for the first or second checked baggage is $25 USD ($34 AUD) each. 
There is no oversize fee for skis and snowboard. 
Snow ski equipment encased in a container or containers acceptable to Carrier and including no more than one pair of skis or one snowboard, one pair of ski boots and one pair of ski poles will be considered as one checked bag.
Ski / Snowboard equipment which have exceeded 80 linear inches incur an oversized fee of $75 USD ($103 AUD).
Ski / Snowboard equipment which weigh between 18and32 kg incur an overweight fee of $50 USD ($69 AUD). Bags between 71  and  100 pounds incur a fee of $75 USD ($103 AUD). Note Allegiant Air do not accept bags weighing over 45 kg.
One pair of skis / snowboard and one equipment bag count as a single checked baggage item.
You can travel with one pair of skis with poles or snowboard, one pair of boots and 1 helmet or life preserver. 
Standard checked baggage fees apply to ski/ snowboard equipment bags which are within 126 linear inches and up to 23 kg. 
Overweight baggage fees applies to equipment bags between 23and32 kg. If the equipment bag exceeds 23 kg and 62 linear inches, it will be charged as a separate checked bag and standard overweight and oversize fees apply. 
You cannot travel with lighters or torches for applying ski wax.
One ski / pole bag or one snowboard bag and one boot bag is accepted per person as one checked bag.
The combined weight of the ski/snowboard bag and the boot bag may not exceed 23 kg. or excess weight charges will apply.
Linear dimensions may exceed 203 cm without excess size charges.
All standard baggage charges apply.
Skis, ski poles and ski boots may be counted as a single item.
If the boots are checked in a separate bag, it cannot exceed 11 kg or it will be considered as a second bag. Boots may also be carried onto the flight provided that it does not exceed the allowable carry-on dimensions.
Overweight charges apply if the item is 23 kg or more.
Oversized charges do not apply.
One pair of skis / snowboard and one pair of boots is considered one baggage item. However, the ski boots, if packed separately from skiing equipment, must be in a ski boot bag for this to apply.
There is no additional charge for ski and snowboard equipment which are exempt from standard size requirements 157 cm. However, the baggage must still follow weight guidelines otherwise fees may apply.
Note that ski and snowboard equipment are not accepted on flights to / from the Dominican Republic.
One pair of skis or one snowboard, one set of poles and one pair of ski/snowboard boots may count as one item. Southwest Airlines allows up to two bags to hold the above equipment which may be packed and tagged separately.
Snow ski equipment are not subject to excess size charges. However, excess weight charges may apply.
One pair of skis or snowboard, ski poles and ski boots are counted as one item of checked baggage. A maximum of two pairs of skis per bag are allowed.
Skis and snowboards can be up to six feet in length.
Items in excess of the allowance will be subject to excess baggage charges for a single piece, whether or not presented as a single piece.
United accepts one item of ski or snowboard equipment per customer as checked baggage. Equipment must be securely encased in a suitable container. An item of ski equipment consists of:
undefinedundefined
If the combined weight of the ski bag and boot bag is over 23 kg, applicable overweight charges apply.
A boot bag without an accompanied ski bag is considered one bag and normal baggage fees apply.
Ski equipment in addition to the baggage allowance will be assessed at the current excess baggage charge for a single piece, whether or not it is presented as a single piece.
Note that ski and boot bags that do not contain ski-related items will be subject to any applicable oversized and overweight checked baggage service charges.
United varies its charges depending on the origin and destination of the flight.
Further and Related Readings