Top 10 Reasons To Visit Rusutsu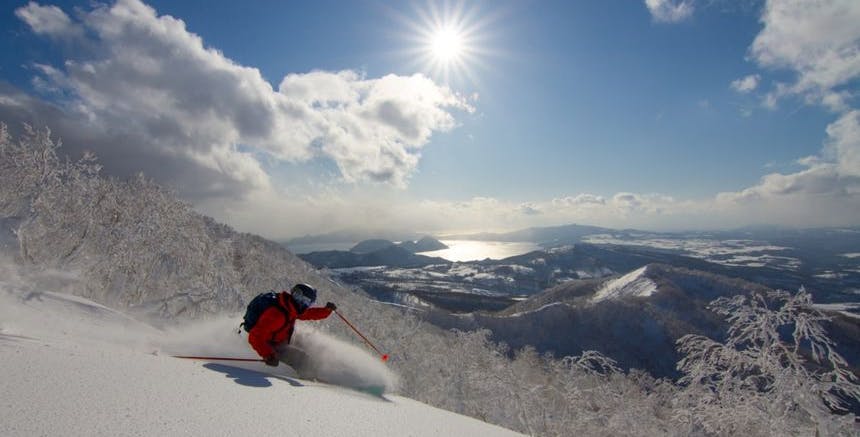 Written by Jack Lee
Last updated July 19, 2023
Here are ten reasons to visit Rusutsu, one of the best ski resorts in Japan!
1. FOUR TIME WINNER OF JAPAN'S BEST SKI RESORT
Rusutsu has won the World Ski Awards for Japan's Best Ski Resort four times, taking the top spot in 2017, 2018, 2019 and 2021! Known for its amazing powder skiing, variety of trails and relatively small crowds, it's not hard to see why!
Rusutsu's prime location is what allows for the incredible snow. It's southeast positioning to Mt Yotei protects the resort from harsh winter winds, while its close proximity to the Pacific coast means there are plenty of sunny days in winter!
3. CONVENIENT ACCESS FROM SAPPORO
It's easy to get to Rusutsu, located just a 90-minute drive from New Chitose Airport and Sapporo. If you're staying overnight, the BIGRUNS BUS operates from New Chitose Airport to the resort. Once you're there, you can enjoy the abundant snowfall across three interconnected mountains and 37 trails! 
Rusutsu is also within a short drive to Niseko Ski Resort, it's approximately 21.9 miles away. It consists of several interconnected resorts, including Grand Hirafu, Hanazono, Niseko Village, and Annupuri.
To enjoy ski-in/ski-out access, a wave pool and a variety of restaurants and shops, stay at the Rusutsu Resort Hotel. Their relaxing onsen includes an outdoor bath with a panoramic view of the mountains. They also have some unique rooms available with wooden furnishings, including the Log House and Cottage, which have a warm and cozy atmosphere. Make sure to book in advance to secure early-bird discounts!
Stay at the luxurious Westin Rusutsu Resort for ski-in/ski-out access to the slopes, and relaxing amenities including the open-air bath and a range of restaurants. The Westin Rusutsu Resort has won the award for Japan's Best Ski Hotel at the World Ski Awards four times!
6. TENT SAUNA AND KAMAKURA OUTDOOR AIR BATH
Sweat it out in the snow tent sauna and dive into the powder snow! A new winter activity introduced in the 2021/2022 season, the tent sauna can reach up to 120 degrees Celsius! Guests can relax in the sauna by choosing their preferred temperature and amount of steam. After stepping out of the sauna, dive into the powder snow to cool down before enjoying a special lunch at the 'Kamakura' Igloo BBQ. You can try the 'Yotei Mutton Jingisukan' from the local Rusutsu Farm.
7. SNOW DRIFTING EXPERIENCE
Another winter activity introduced in the 2021/2022 season, the snow drifting experience allows you to ride as a passenger in a car driven by a professional driver and experience drifting and unique driving techniques around the track. You can also take a winter driving lesson to learn how to drive safely on snowy roads.
For an authentic Japanese experience, head to the Rusutsu Onsen and relax your muscles after a long day on the slopes. Not to mention the panoramic view from the outdoor hot spring!
Explore Mt. Shiribetsu's back-country with Rusutsu's heli-skiing experience. You'll be whisked up to the summit of the mountain and be guided by experts through powder, open faces and tree skiing. Mt Shiribetsu is known as one of Hokkaido's best backcountry destinations!
Rusutsu offers a First Tracks experience from the top of Mt Isola on New Year's Day and every Sunday in January and February. Only a limited number of tickets are available, so you can enjoy exclusive access to the ski area before it opens!
Further and Related Readings