Top 10 Reasons to Ski the Arlberg

Written by Heather Burke / Photos by Greg Burke
Last updated July 26, 2023
The Arlberg is legendary amongst skiers. In the heart of the Alps, this Austrian mega-resort has it all - history, huge terrain, amazing lifts (88 of them), energetic après ski, beautiful lodging in 8 ski-to villages, and magnificent mountain views. Did we mention the off-piste ski opportunities? The snow? You should go, here's why!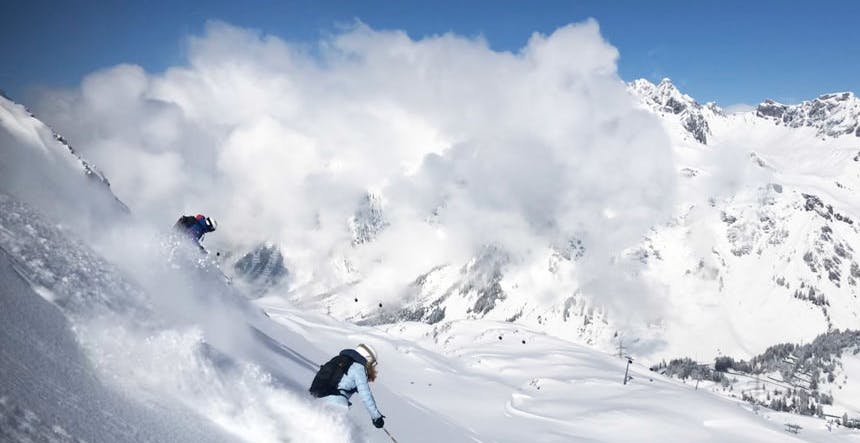 Ski Arlberg is Austria's largest ski region! Trails stretch over 189 mi - all this skiing is interconnected with modern lifts from one famous ski resort to the next - St Anton to St Christoph and Stuben, to Lech and Zurs, to Warth, 8 villages all tolled on one Ski Arlberg ticket under $67 a day. There's more skiing than you can track in a winter here!
You can start your day in St Anton, and in just a few long luxurious lifts ride – be in the beautiful ski village of Lech for lunch, having skied miles on prepared trails. The Run of Fame is a fun way to explore the entire circuit – a special trail map (or an app) tributes famous skiers and local stars as you tour 53 mi on skis and riding spectacular lifts. The White Ring is another ski safari, tracing the Arlberg's annual race around popular trails. Or just explore at your leisure over a few days enjoying each unique resort section.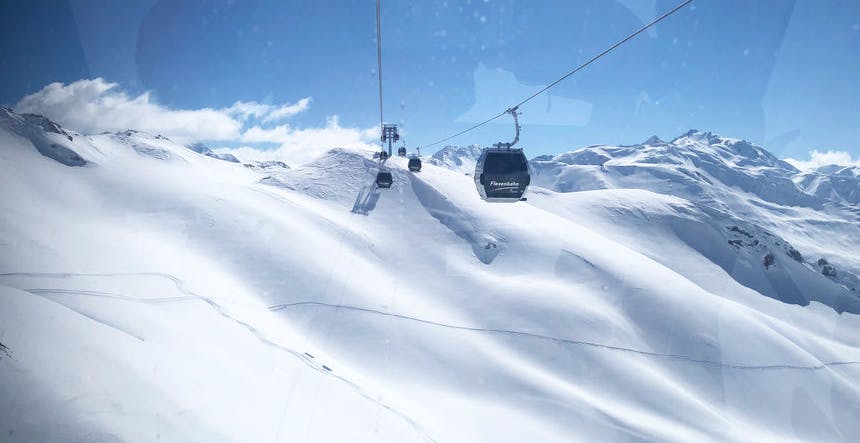 Austria is Dopplemayr's playground – and the Arlberg showcases their latest greatest ski lifts-like the Flexen and Trittkopf glass gondolas that connect Stuben to Zurs and Lech, then the Auenfeldjet from Oberlech to Warth and Schröcken. The 24 passenger Galzigbahn gondola from St Anton village loads like a Ferris Wheel. More marvelous than the engineering, ie: WiFi and heated leather seats, is the view from these state-of-the art rides. Watch for mountain goats that graze in the sun below the cableways.
HAUTE CUISINE – CHALET STYLE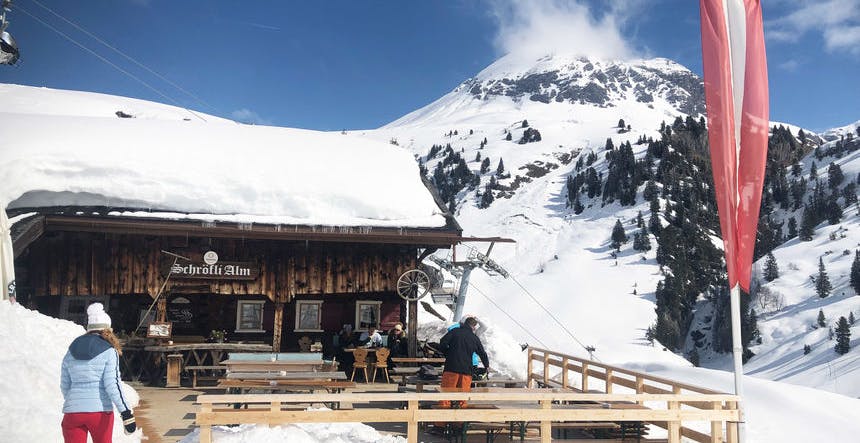 The Arlberg boasts over 50 on-mountain restaurants. We are not talking burgers and fries, or cafeterias here. Beautiful Tyrolean chalets sit along the trail sides with a hospitality flag waving you in. Dine on the sun terrace or inside at a cozy fireside table, you'll be served authentic Glühwein and schnapps, along with traditional cuisine – cheesy Rösti, fondue, raclette, goulash.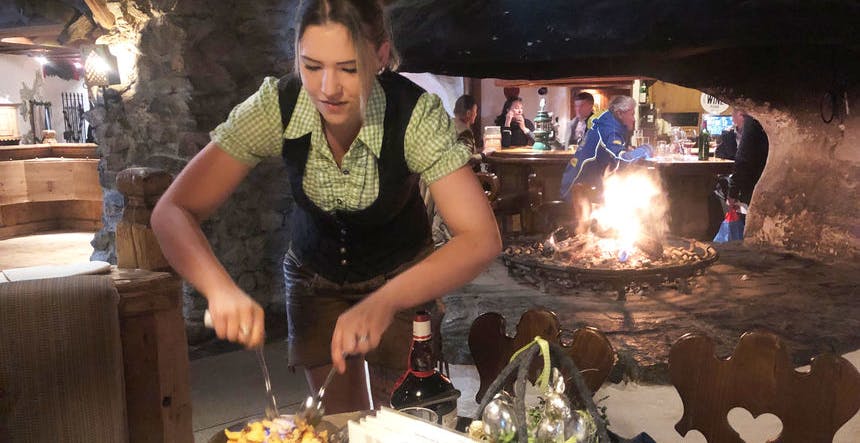 Many of these alpine huts are Gault Millau Guide award winners. A few favorites are Hospize Alm St Christoph and Rude Alp in Lech for charm and hearty fare, or Bergkristall in Oberlech and Fuxbau in Stuben for modern cuisine in a chic environ.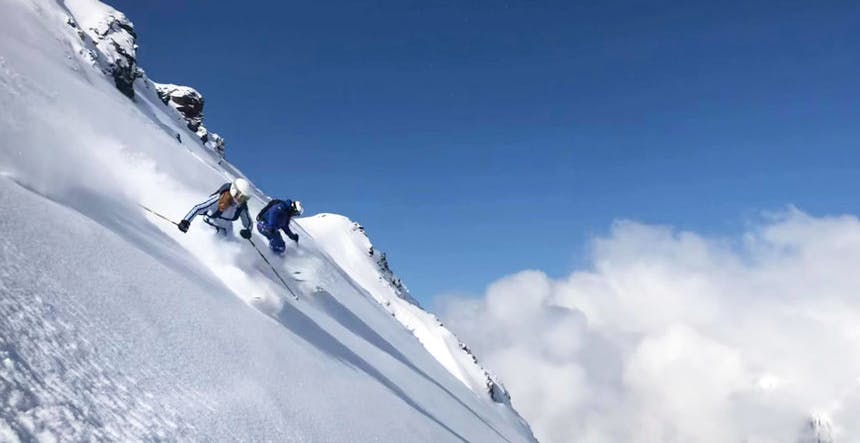 The Valluga is the highest peak in these Alps at 9,216 ft. Vallugabahn I tram delivers eager skiers to steep, long, super scenic skiing. Hire a guide and you can ski Arlberg's highest elevation at 9,222 ft reached by Valluga II – a 5 person tram serving completely off-piste expert-only terrain from the summit.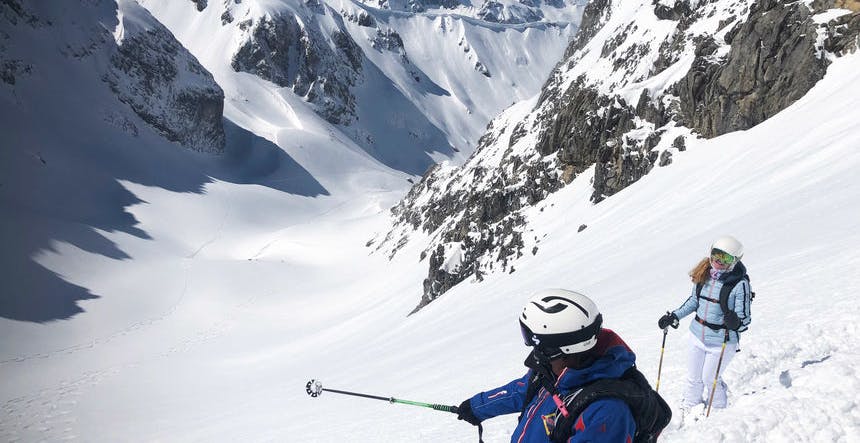 You can ride without skis for the amazing views, or go big like we did – we hired a Bergführer to guide us down this epic steep exhilaratingly (my word for scary) long run all the way to the backside to Zurs and Lech. Stuben is also host to some amazing off-piste skiing, and some hidden dangers too. Hire a guide for a day that rivals heli-skiing!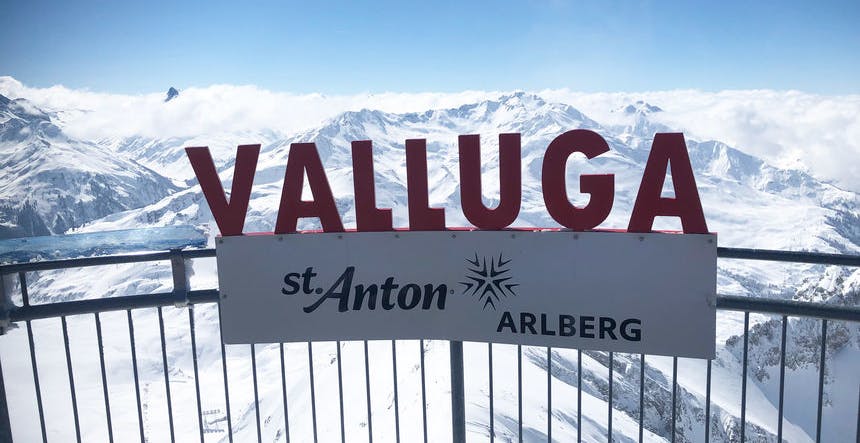 The Alps are otherworldly – these glacially carved monstrous mountains tower the landscape from France to Switzerland, Germany to Austria and Italy. Austria's jagged snowcapped peaks are Mother Nature's sky scrapers, and the view changes by the minute from early morning pallor to mid-day sparkling sun on the slopes, to rosy alpenglow at twilight.
MAGNIFICENT ON-MOUNTAIN LODGING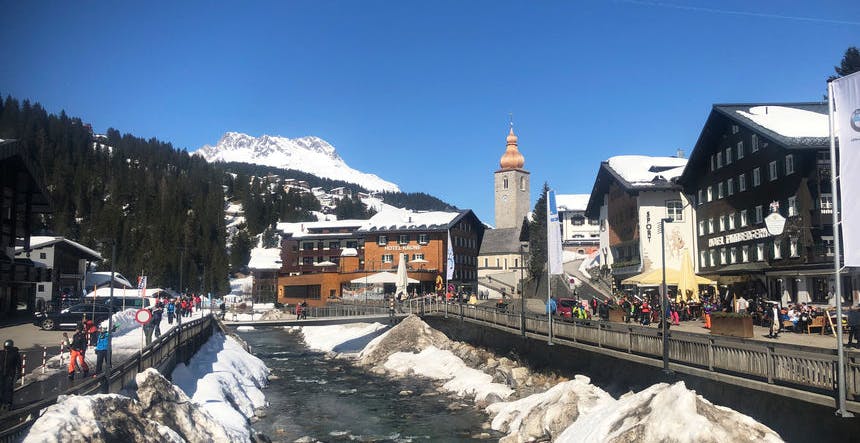 With eight unique ski villages, all tucked at the base of the ski slopes, you'll find special charm at each – of course the requisite church spire and clock tower. You have tremendous choices as to where to stay when skiing the Arlberg. If you like a vibrant social scene and quick access to the best high elevation skiing then St Anton is THE classic ski village.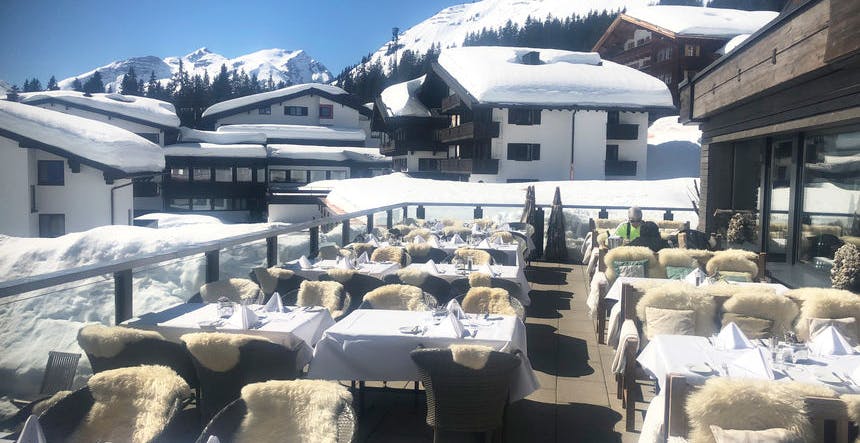 Families love Lech for its moderate terrain that's easily reached, and luxe resort hotel lodging. Stuben is so quaint and historic in a steep valley – perfect for a quiet romantic ski holiday. Oberlech is up on the slopes – ideal for a mountain retreat – car free and carefree.
WORLD'S WILDEST APRÈS SKI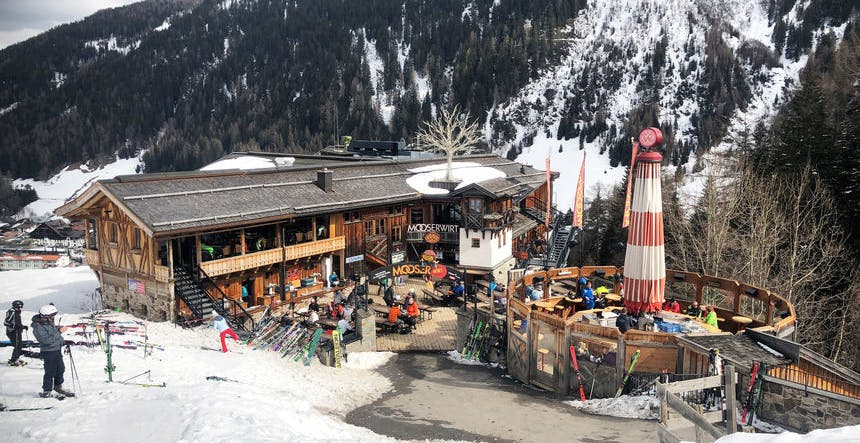 Après ski in the Arlberg is tops, staring at chalets mid-mountain and trickling down the villages along with the tipsy skiers. St Anton's "après ski way" – aka Trail 50 - has legendary ski bars along the way. World famous Mooserwirt and Krazy Kanguruh have lively music, plentiful drinking and ski boots dancing most afternoons. 
Stuben's aprés ski at Fuxbau is tamer - the Alpen glow from this chic bar is terrific. Lech's sidewalk cafés overlooking the river are popular for pretty people to sip an aperitif aprés ski. Ischgl Austria rivals this region for their party scene – but the Arlberg is the original with its local skiers holding up the tradition and their bar stools.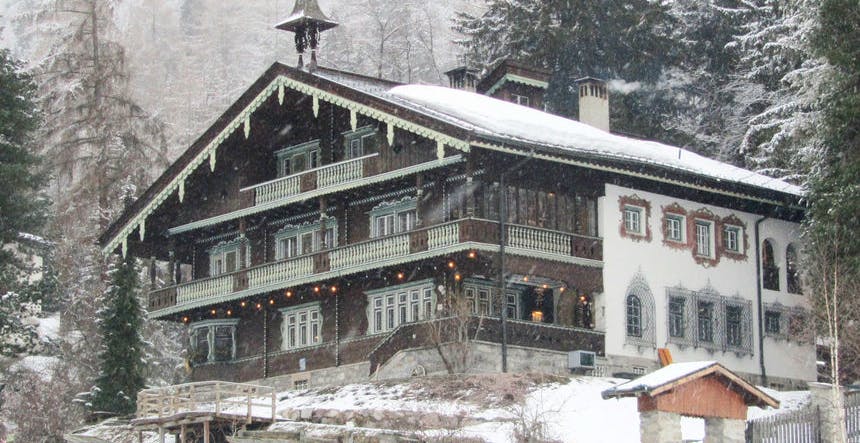 St Anton is The Cradle of Alpine Skiing, where it all went downhill first. Legendary ski instructor Hannes Schneider trademarked his "Arlberg ski technique" here (later known as the Stem Christie). Visit the St Anton Ski Museum to learn the lore and legend of skiing here since 1901, then dine in this vintage 1912 chalet.
Don't miss the Ski Show on Wednesday night for an illuminated showcase of the evolution of skiing in St Anton with stunts performed by the ski school complete with fireworks. It's free, but the VIP tickets in the Karl Schranz stadium are worth it for a rooftop view, drinks and appetizers before and during the show.
NO SKIS, NO PROBLEM IN THE ARLBERG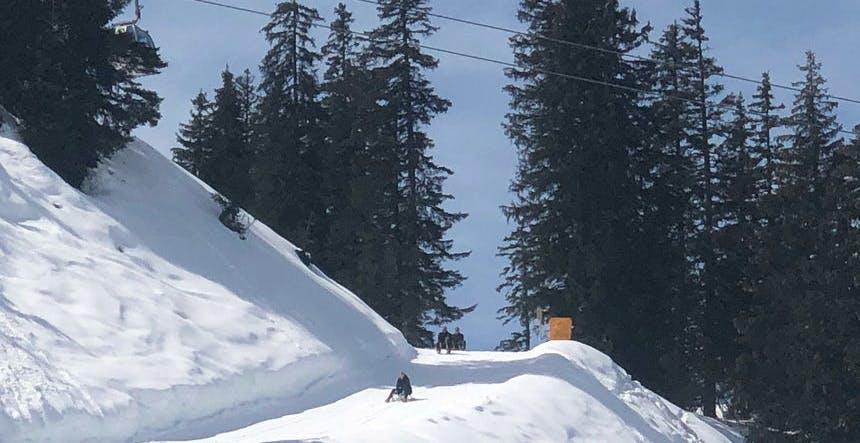 The Arlberg is loaded with winter walking paths for non-skiers, groomed and on a "winter wandering" map. You can access the upper mountain and chalets for lunch by riding pedestrian friendly gondolas and trams with a single ticket. 
The Arlberg has extensive Nordic skiing, and St Anton's sledding run is 3 mi "rodelling" on a wood toboggan down 1,500 ft to the valley. Lech and St Anton have fantastic boutique shopping and spas in the village if you prefer to be pampered and stay away from the powder.
PROXIMITY OF AUSTRIAN POWDER SKIING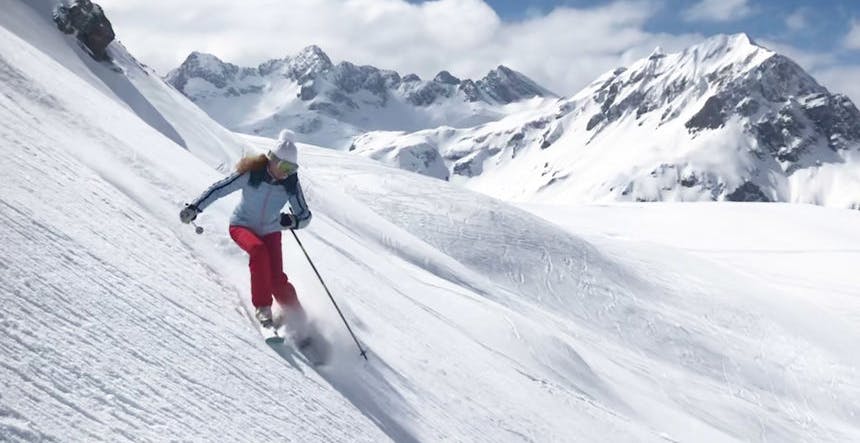 Austria is home to many of the top ski resorts in the world, Kitzbühel, Innsbruck, Mayrhofen- Zillertal, Hintertux, Solden, St Anton, Lech-Zurs, Ischgl, Serfaus Fiss… the list goes on and on. There are over 400 ski areas in the small country of Austria (Australia is 92 times bigger), over 80 just in the Tyrol. You can easily tour several ski resorts in one visit, since one is often 20 minutes from the next if not interconnected like Ski Arlberg.
Further and Related Readings