Top Reasons to Ski Arosa Lenzerheide Switzerland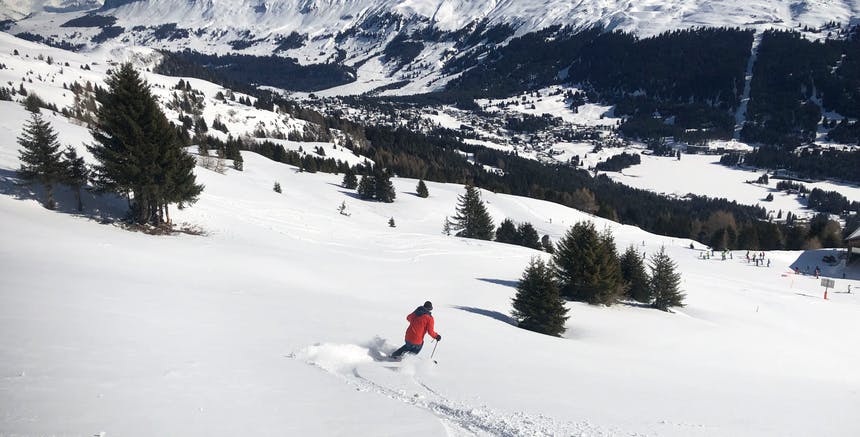 Written by Heather Burke / Photos by Greg Burke
Last updated July 25, 2023
Arosa Lenzerheide in Switzerland is totally worth the ski trip. Located in Eastern Switzerland, in the beautiful Swiss canton of Graubünden, with Flims Laax and Falera ski resorts to the west, and Davos/Klosters and St Moritz to the east, you could make it a Swiss Ski Safari. Lenzerheide is 110 km from Zurich.
TWO SEPARATE SWISS SKI AREAS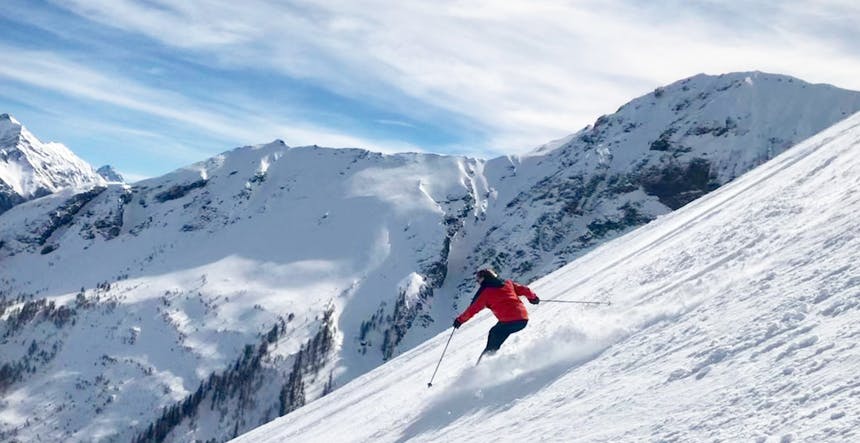 Two separate Swiss ski areas – Arosa and Lenzerheide – all on one ticket, these impressive mountains are connected by a modern summit tram, creating one mega Swiss ski resort. Arosa connects with Lenzerheide via the swift 3-minute Urdenbahn tram - a marvellously panoramic, jaw-dropping, peak to peak ride.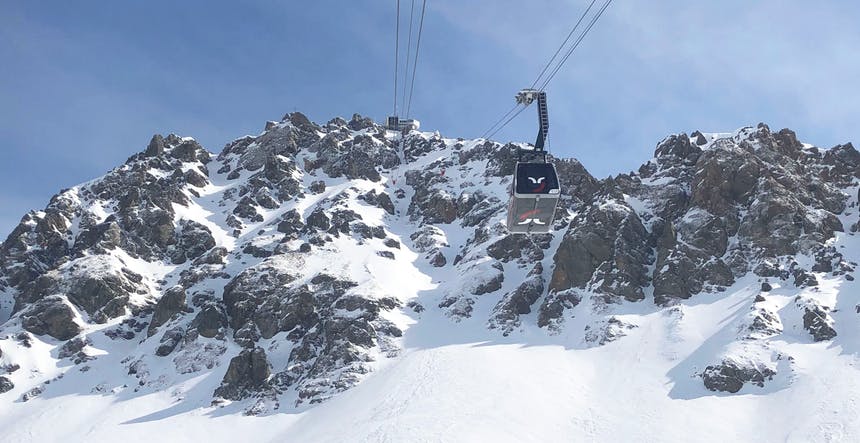 Arosa Lenzerheide's ski region is vast – with 56 modern lifts! Combined, Arosa and Lenzerheide offer 225 km of prepared slopes for skiing, plus so much off-piste opportunity, and a big 1,219 m vertical top to bottom, enough skiing for a week, a month!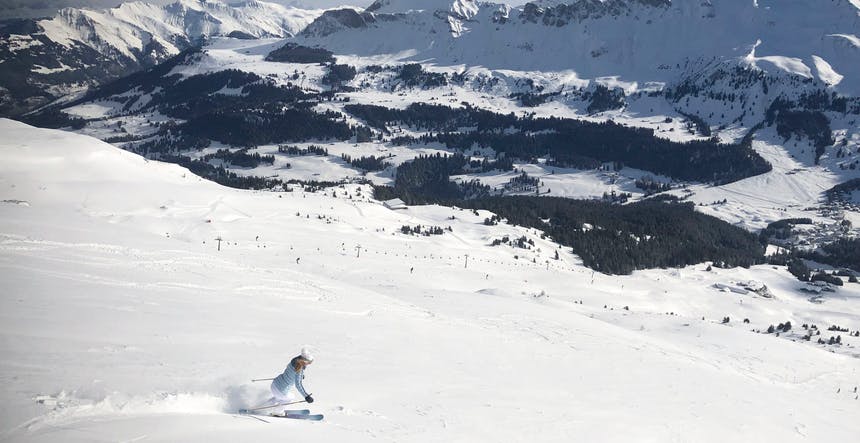 Arosa's side has a plethora of wonderful "prepared" (groomed) intermediate trails, wide, gently-pitched and super-scenic on a high alpine plateau. Free skiers can go just a wee bit off the groomed terrain to find some fresh untracked powder.
LENZERHEIDE'S EAST FACING SIDE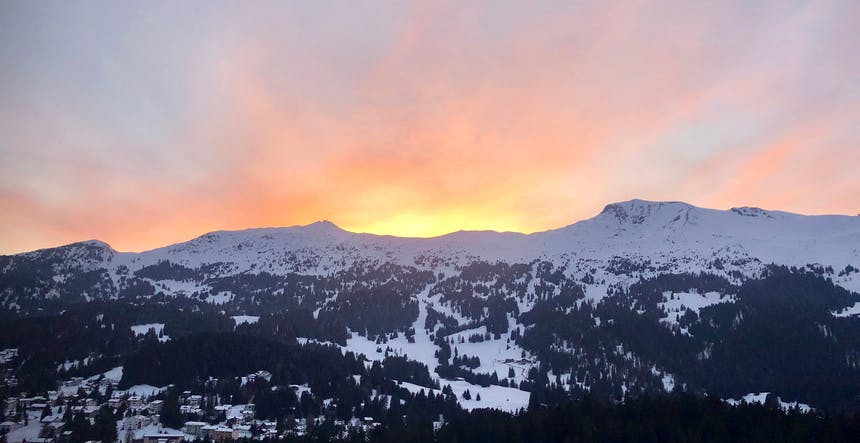 Lenzerheide's east facing side of Scalottas, Lavoz and Statzerhorn basks in morning sun. With dozens of great groomed trails, you're accompanied by amazing views across the valley of the dramatic Rothorn. Ski Tip: sign up for the Early Bird Sunday special – first tracks starting at 6:30am, with sunrise over the Rothorn and surrounding Alps, followed by a sinfully sumptuous buffet at the Alp Statz lodge, all before the public is out on the slopes.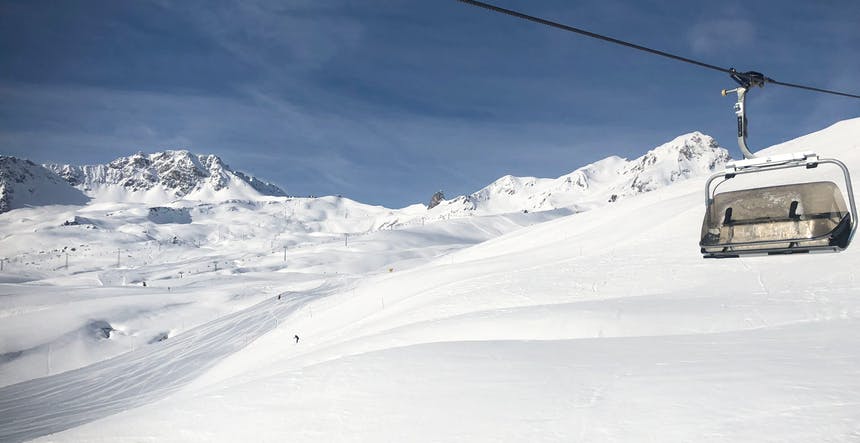 Lenzerheide's west side offers expert skiers well-pitched north-facing terrain on the Rothorn peak up to 2,865 m. Ski the World Cup run on Motta from the official start gate… the timer ticks down as you hear cowbells and crazy Swiss ski racing fans cheering. This steep run, #24 and 25, is named Silvano Beltrametti for the top Swiss racer who lives in Lenzerheide, more on him next...
ON MOUNTAIN CHALETS AND HUTS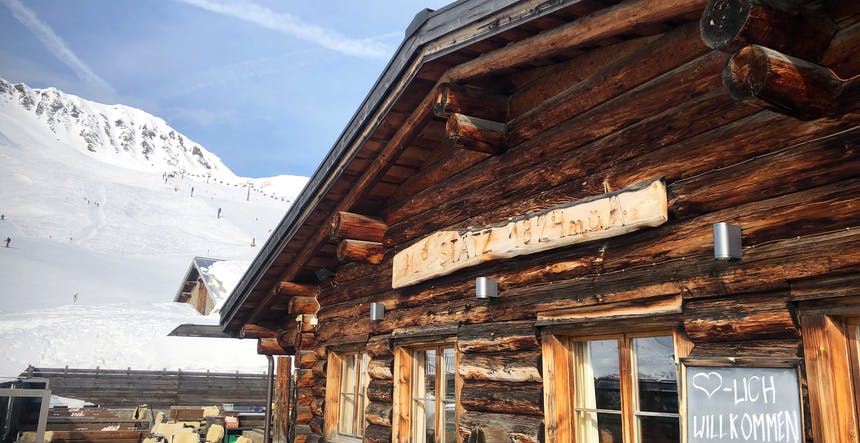 A highlight of Lenzerheide is the on mountain chalets and huts, there are over 40 restaurants, amid "views of a thousand peaks" (not sure about a thousand but with Alp vistas like this, who's counting?!).
Berghotel Tgantieni is a beautiful chalet at Lenzerheide's Scalottas area. Dine outside on the sun-soaked wood deck, or in the posh dining room. The owner, Swiss ski racer Silvano Beltrametti, was the greatest Swiss racer until his World Cup downhill crash at Val D'Isère in 2001. Silvano, now the host at this magnificent spot, made us the most delicious cappuccino with a smile from the confines of his wheelchair.
Motta Hutte is a spectacular ($9 million) mountain lodge atop Lenzerheide's Motta six-pack, sit inside by the chic fire overlooking the wine and cigar room - the most expensive collection in ski country. Out on the terrace, Motta's bar stools are draped with sheep skin, tables and couches can be reserved to sip cocktails and snack in the sun.
Panorama atop The Rothorn is well named for its 360 views at 2,985 m. Swiss waiters serve a classic menu of Rösti, schnitzel, local meats and cheeses. That's just three of many magical sit-down alpine lunch settings.
LENZERHEIDE'S NORDIC TRAILS
Lenzerheide's Nordic trails are impressive, and the sledding is super-fast and fun riding traditional wooden sleds on groomed trails within the ski area.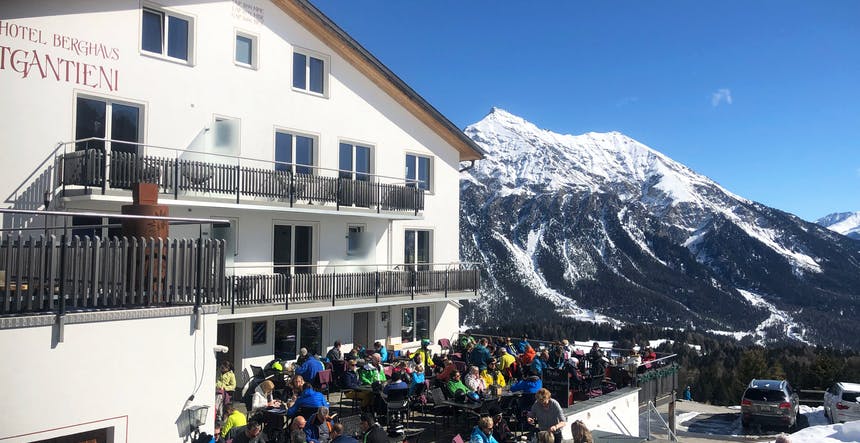 Aprés ski is lively at Lenzerheide's "Live is Life" event each spring with bands performing all over the mountain. Every weekend Crest'ota is a fantastic aprés ski hub –with excellent food, a wonderful outdoor deck and bar featuring Day Parties most Saturday afternoons with DJS, Glühwein and dancing. Kids can play in the snow or ski laps on the T Bar while parents' party.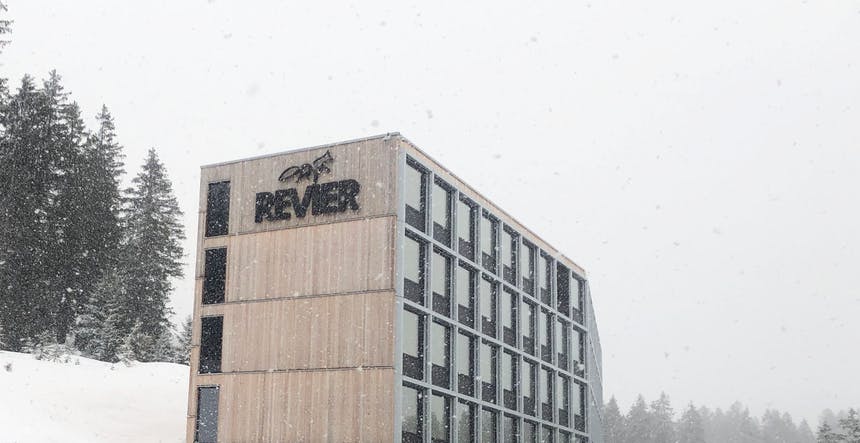 Stay at Revier for a no-fuss, mod vibe. No room keys, no reception desk, just a kiosk giving a code to your door. Track down a Revier "gang member" (staff – I guess they're super hip) if you need help at the bar– which is the social epicentre. Our "cabin" was "Xtra large" but truly minimal with just a king bed set against a grand picture window overlooking the lake. Revier is steps to the gondola, moderately priced and millennial inspired.
Berghaus Crest'ota is a more charming alpine chalet, a family-owned bed and breakfast directly on the slopes serving delicious traditional lunch and dinner, plus an awesome aprés ski scene.
LENZERHEIDE'S PRETTY ALPINE VILLAGE
Lenzerheide's pretty alpine village around Heidsee Lake has boutiques and chic ski shops like Pesko and Jet Set, cafes, restaurants and luxe hotels like Kurhaus and Schwiezerhof Hotel if you prefer an in-town Swiss setting.
Further and Related Readings