Why You Should Ski Spain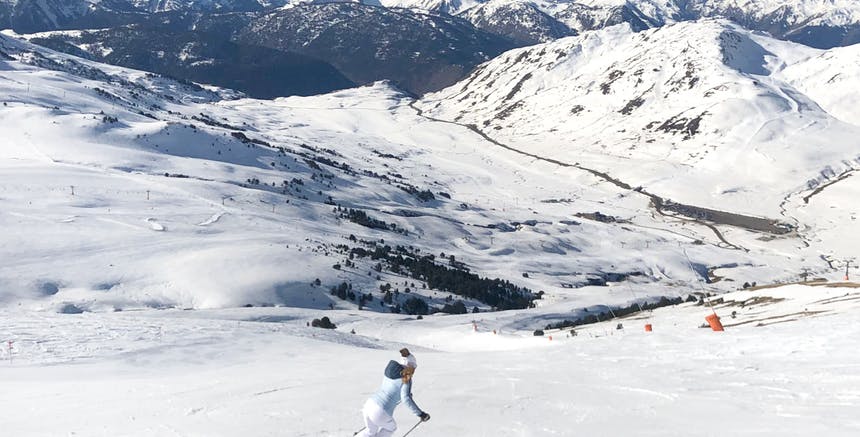 Written by Heather Burke / Photos by Greg Burke
Last updated July 25, 2023
Spain doesn't often pop up in ski conversations as THE place to go. Maybe that's why you should… While most think of Spain as coastline, beaches, islands, wine and tapas, and historic cities like Barcelona, there's actually big mountain skiing in The Pyrenees. Spain is worth a ski trip. Did I mention it's affordable?
Baqueira Beret is Spain's largest ski resort in the spectacular Val D'Aran– the heart of the Pyrenees. Baqueira is slightly larger than Vail, with 5,600 ac, 36 lifts, over 100 ski runs and an astonishing amount of off-piste opportunities. It's big, and it's beautiful.
Baqueira has seven mountain peaks – vast skiing with a variety of exposures so you can find good snow and sun throughout the day. With 1,100 m vertical, the longest run is 5 km. We visited in February, but enjoy April type conditions so we started our ski day on the sunny slopes of Blanhiblar in eastern Beret, then Dossau, before reaching the highest 2,610 m at Baciver. After a leisure Spanish lunch mid-moutnain, we would explore Bonaigua for more slopes and big open snowfields.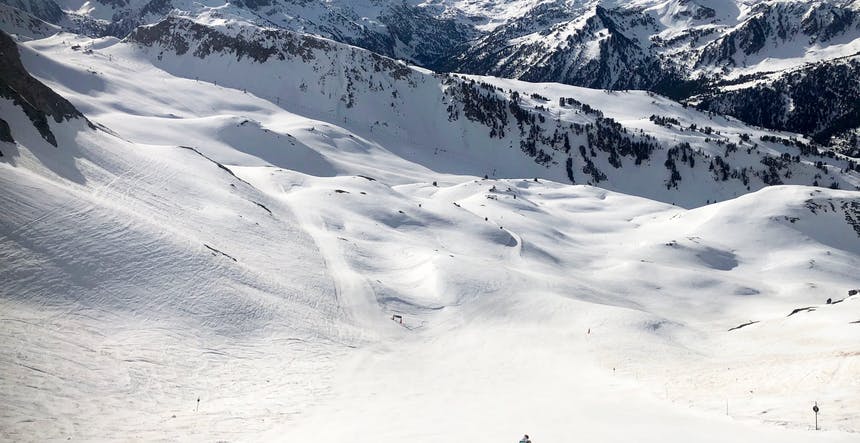 Spain is not The Alps, but the views are on par in the northern Pyrenees. From Baqueira's summit, the panorama is extraordinary including the mighty peak of Aneto - Spain's third-highest mountain at 3,404 m, which holds the largest glacier in The Pyrenees-Maladeta (go see it before it melts).
Spain's Catalonia region is revered for its "vino" (think Rioja), which is often cheaper than water or soda. Delicious cheese and local Iberico ham, crusty bread drenched in juicy red tomato and olive oil, and Tapas are perfect tasty plates to share at ski lunch or après ski. Chic umbrella bars and mountain lodges with sun decks around the resort welcome you for Vino, or an invigorating café, always with a view! Cinco Jotas is an elegant alpine lodge famed for their grilled beef and acorn-fed ham. Bar El Refugi San Miguel serves rabbit and escargot (together in one dish), crispy pizzas, and fantastic tapas by the slopes!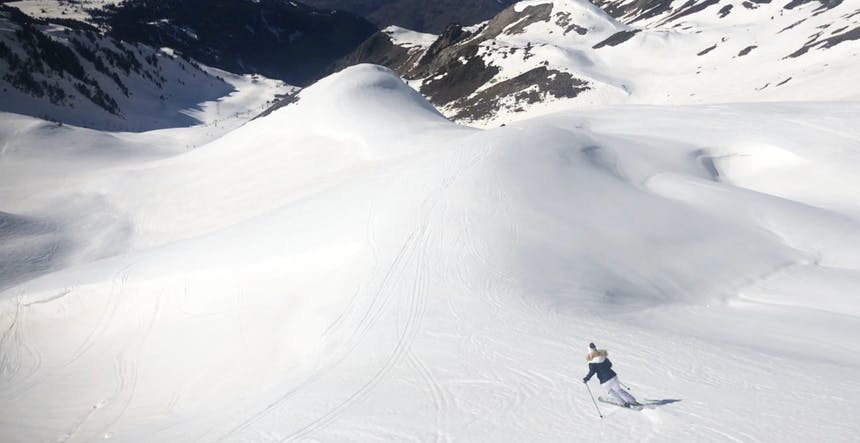 Off-piste is off the hook! A powder day at Baqueira would be unbelievable with so many gently pitched wide-open snow bowls and super scary steep chutes too (like "where goats fall"), easily accessible from the prepared pistes. Hire a local guide and goloco exploring!
Moët Chandon Winter Lounge serves 10€ glasses of bubbly and DJ music from a gondola car on the deck. This is where the pretty people go. Bar 2200 sports a better view, more casual with 3€ vino, and the kids can play in snow. Spain's après ski is more subdued than St Anton's dancing on tables in ski boots scene. Spaniards are more about fabulous wine and sunshine. In fact, the Spanish often siesta after skiing, so they can fiesta – wining and dining late into the night. Hint: this bodes well for early skiers.
Spain is centuries' old and Val D'Aran's 33 mountain villages are authentic testaments with gothic churches and cobblestone alleys. Friendly local Spaniards (most of whom speak English orSpan-glish, an interpretable combo of the two) who for generations raised lamb and ham now have cozy restaurants serving skiers traditional Catalan dishes. Visit Bagergue, the highest historic village which is awarded among "THE most beautiful places in Spain", and buy Aranese cheese from two brothers making grandmother's traditional recipe at Hormatgeria Tarrau.
Mush your dog sleigh or snowmobile along 7 km in a snowy forest to dinner at a 12thcentury sanctuary and chapel. At this serene stone Refugi de Montgarri, you savor a 4-course meal cooked over an open fire, accompanied by local wine and delicious liquor with dessert. Keep in mind the sled ride back through the forest late at night.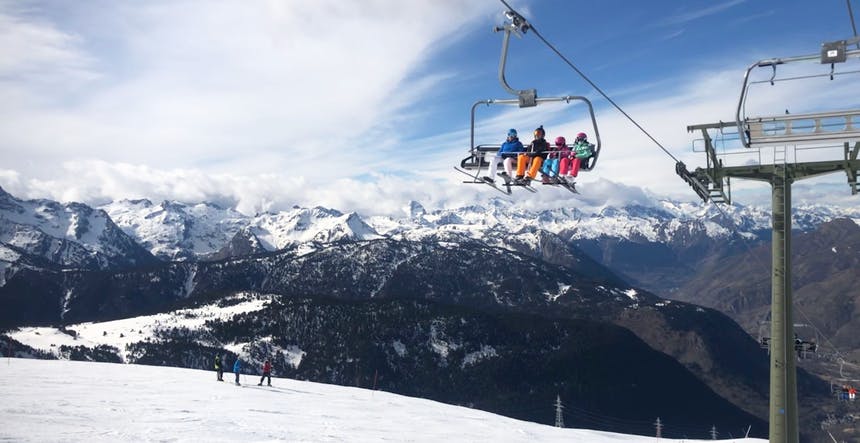 Spain is less expensive to ski than the Alps of Austria, Switzerland or France. Lift tickets at Baqueira Beret are about 50€ a day. Wine by the glass is 3€. Lodging deals can be found in Val D'Aran amid 14,000 beds from 5-star hotels to hostels (just avoid busy Christmas holiday).
Stay at the cozy English Eira Ski Lodge just steps to the lift with your own Chef preparing your breakfast and dinner. You can rent out the entire 8 room lodge with friends or family for a private catered chalet ski holiday. The larger luxe Montarto Hotel is a full service 4-star with a Spa if you prefer a more urban ski village with shops and dining to explore.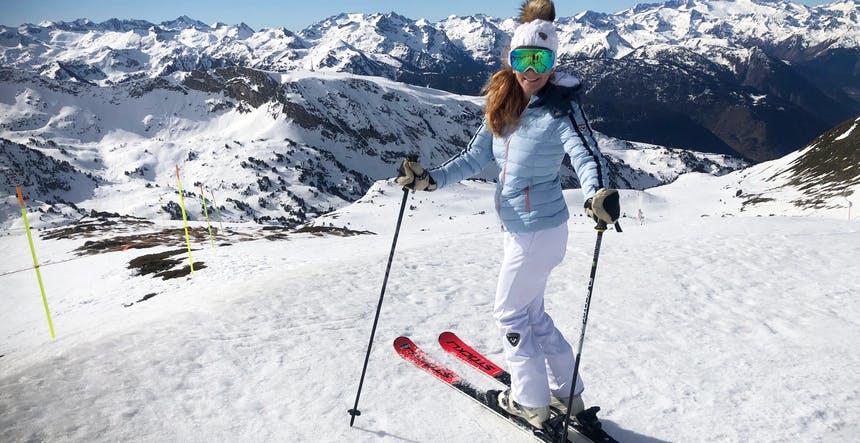 Baqueira Beret is just two hours drive from Toulouse France, almost 4 from Barcelona. You can combine your ski trip with a cultural visit to either of these fascinating cities as part of your Pyrenees ski holiday.
BAQUEIRA BERET SPAIN PROS & CONS
Pros
Big mountain skiing: 1,100 m vertical from 2,610 m summit, with acreage slightly larger than Vail, 36 lifts serving four unique mountain aspects.

Views of the French and Spanish Pyrenees border: Including the largest glacier Maladeta on Aneto at 3,404 m.

Spanish cuisine and culture: In authentic villages of Val D'Aran where you can enjoy tapas, vino and local cheese. You can even dog sled or snowmobile to a 12thcentury monastery for an Aranese meal.
Cons
Lower elevation and latitude south of most Alps, so snow conditions are variable, base elevation is 1,500 m.

Busy on Christmas /New Year's with families from Madrid.

You need a car to properly explore the nearby historic towns in the Val D'Aran valley, so it's not an entirely car-free ski vacation.
Further and Related Readings