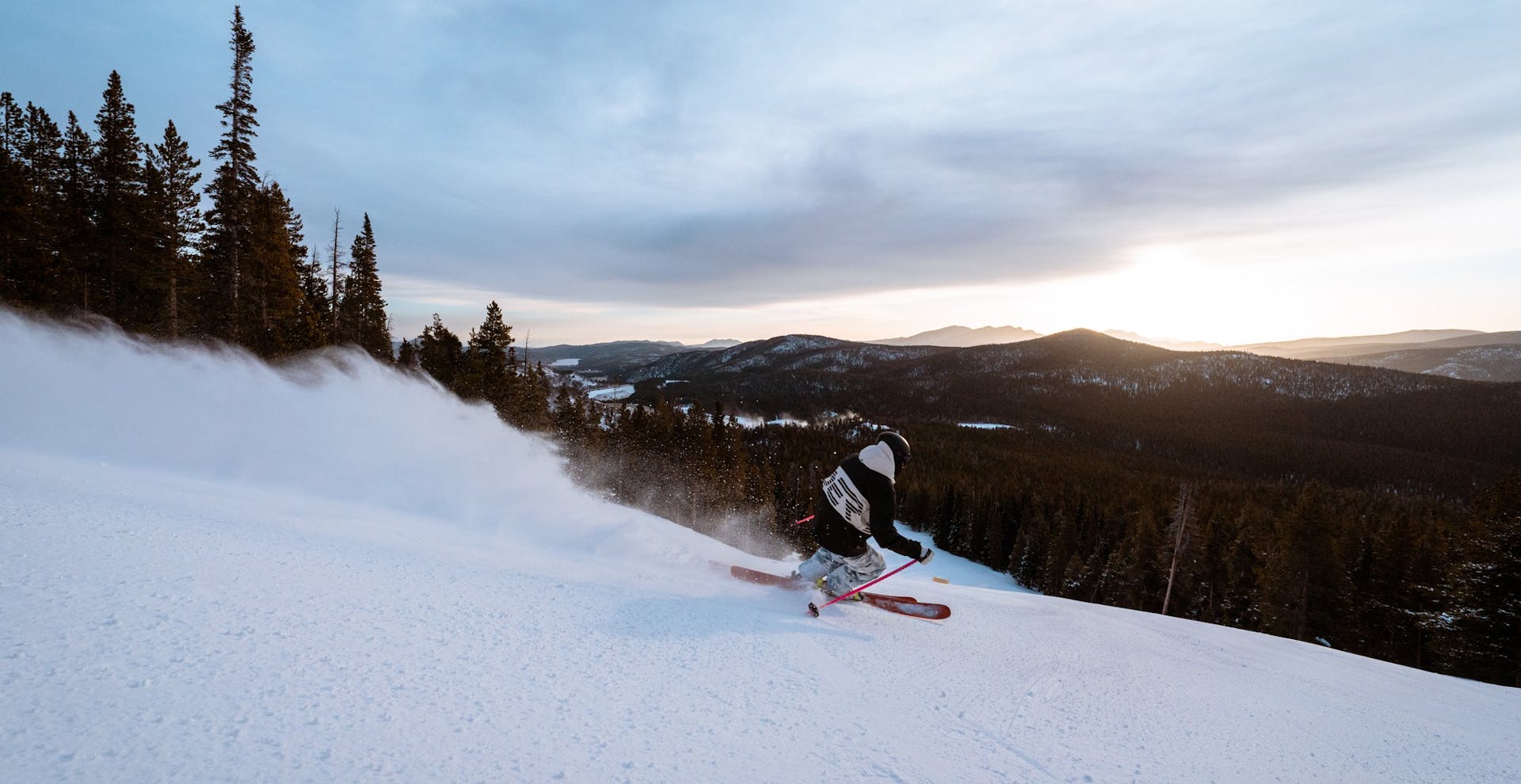 Photo credit: Eldora Mountain
We have put together a list of everything you need to know about Eldora Mountain Resort.
Eldora Mountain Resort Overview
Eldora Mountain Resort is located in Colorado, within driving distance from the metropolitan area. The resort is about 21 miles from Boulder and 49 miles from Denver, making it a convenient getaway for locals to enjoy winter sports without a long journey to the high country.
Ski Terrain
Beginner runs: 17%
Intermediate runs: 45%
Advanced runs: 17%
Expert runs: 20%
Total ski runs: 53
Terrain Parks: 7
Mountain Statistics
Summit elevation: 10,600 feet
Skiable area: 680 acre
Average Snowfall: 300 inches
Eldora Mountain Resort Trail Map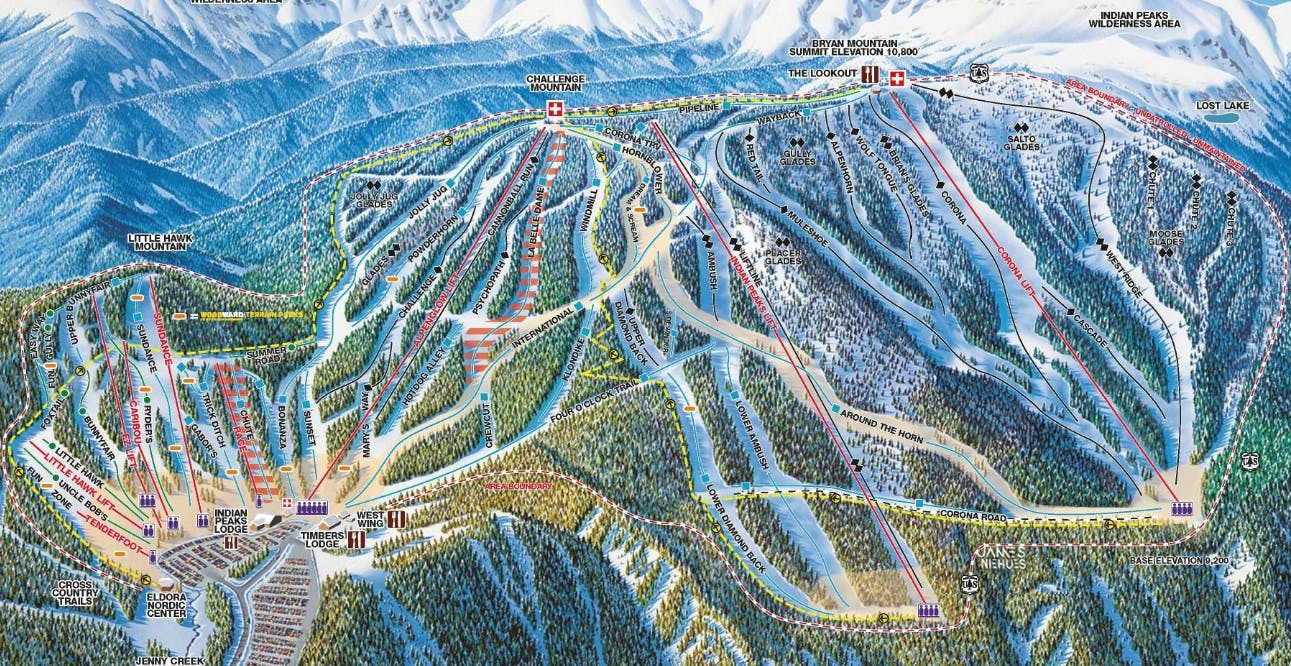 Eldora Mountain Resort Lift Tickets
Eldora Mountain Resort has several lift ticket options including day lift tickets and different types of season passes. Below is a breakdown of the lift passes and the key differences between the passes.
Day Lift Ticket
Eldora Mountain's Day Lift Tickets can be purchased in advance online at a discounted rate and tickets can be picked up with the scannable code from the confirmation email. Print or screenshot of the confirmation is recommended. Contactless Pick-Up Boxes are outside Indian Peaks Lodge or the Nordic Center. Standard rate tickets may also be purchased at any on-mountain ticket counter. 
Days Valid at Eldora Mountain: Valid for the set days you've purchased the ticket.
Available for Purchase: Available for purchase around October until closing day in April.
Ideal for: Unplanned ski vacation or a last-minute day trip to Eldora Mountain.
Multi-Day Passes
The Alpine 4-Pass gives you a total of 4 days access to ski or ride Eldora's alpine slopes throughout the season.
Alpine Season Passes
Alpine Full Pass: This Pass offers unlimited alpine access at Eldora Mountain throughout the ski season. 
Alpine Weekday Pass: This Pass gives you unlimited access to Eldora's alpine slopes on any weekday, Monday to Friday.
Alpine Family Bundle: This offers unlimited alpine access passes for up to 3-6 immediate family members. 
Additional Benefits: Discounts on friends-and-family lift tickets, dining, retail, and high-performance rental equipment.
Ideal for: When you are certain that you will be going skiing before the ski season.
IKON Bass Pass
The IKON Base Pass offers unlimited access to 14 resorts and 5 days of access each at 34 destinations with holiday date restrictions for some resorts. The pass can be printed in Indian Peaks Lodge.
Mountain Access: This pass gives you unlimited and unrestricted access to Eldora Mountain throughout the ski season.
Ideal for: If you are planning to ski a lot at Eldora Mountain and are also interested in skiing at other resorts.
Eldora Mountain Ski and Snowboard Lessons
Eldora Mountain Ski and Snowboard School offers group and private lessons as well as longer learning programs for all ability levels. 
All multi-week programs need to pre-register in advance online and lift tickets and rentals must purchase prior to the scheduled lesson day/time. Season rentals bundling options are available with program purchase.
Nearest Town to Eldora Mountain Resort
The nearest town to Eldora Mountain Resort is Nederland, Colorado, located 5 miles away from the resort and offers a range of restaurants. Eldora is also about 21 miles from downtown Boulder, which access to a bigger selection of food options, lodging, and shopping.
Eldora Mountain Resort has a few mountain dining options.
Located at the main base area in Indian Peaks Lodge with a range of grab-and-go eat dishes.
Located at the main base area in Timbers Lodge serves pizza.
Located at the main base area in Timbers Lodge serves burritos, muffins, burgers and more.
Eldora Mountain Resort Contact Information
Address: 2861 Eldora Ski Rd, Nederland, CO 80466, United States
Phone number: (303) 440-8700
Email: info@eldora.com
Frequently Asked Questions
Are there ski packages to Eldora Mountain Resort?
There are no ski vacation packages to Eldora Mountain as it is a small local resort. That being said, there are ski vacation packages to most ski resorts in Colorado.
What amenities are available at Eldora Mountain Resort?
Eldora Mountain has the basic amenities including a base lodge, a rental shop, a Nordic Center ski shop, lockers and a parking lot.
How much does it cost to rent ski equipment at Eldora Mountain Resort?
The standard ski/snowboard package is $84 per day for adults and $54 for children if you purchase online. Please visit Eldora Mountain Rentals for more information.
Further and Related Reading