Keystone Resort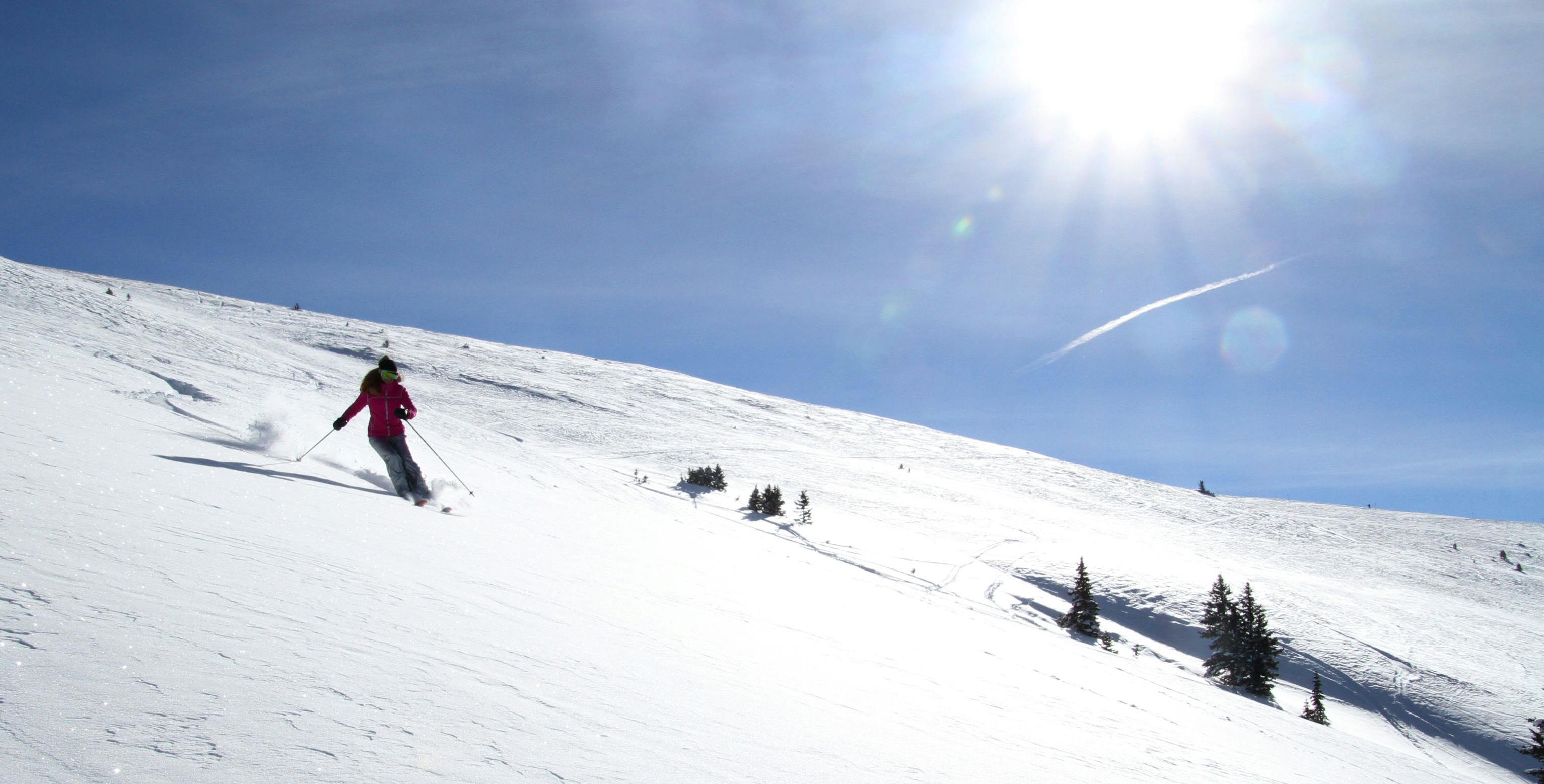 We have put together a list of everything you need to know about Keystone Resort.
Keystone Resort is the most extensive ski area in Summit County, Colorado. The resort comprises three mountains - Dercum Mountain, North Peak, and The Outback - that cover over 3,000 acres of skiable terrain. Keystone is also within a 1-hour drive to Breckenridge Ski Resort and Copper Mountain.
Ski Terrain
Beginner runs: 12%
Intermediate runs: 39%
Advanced runs: 49%
Expert runs: 0%
Total ski runs: 130
Terrain Parks: 1
 Mountain Statistics
Summit elevation: 12,408 feet
Skiable area: 3149 acre
Average Snowfall: 235 inch
Keystone Resort Trail Map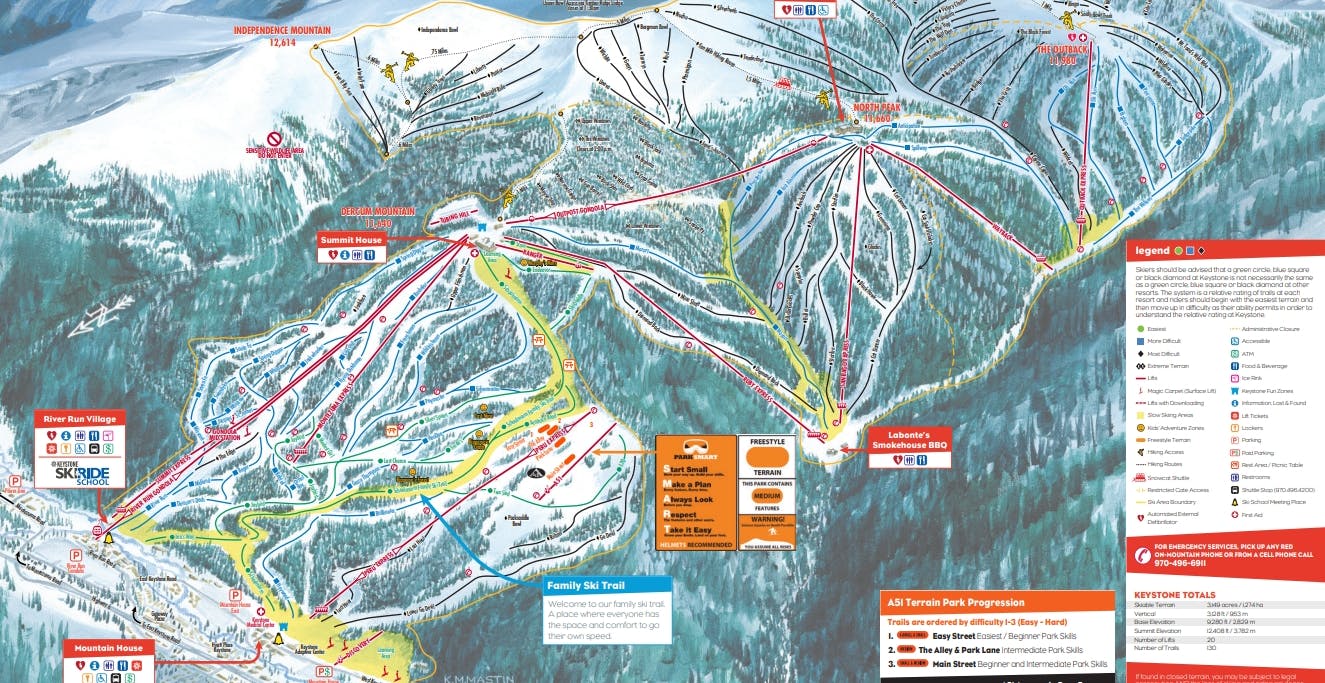 View of River Run Village from Keystone Mountain
Keystone Resort Lift Tickets
Keystone is owned and operated by Vail Resorts and as such, falls under the EPIC pass ski pass program. Below is a breakdown of the lift passes that grant access to Keystone Ski Resort and the key differences between the passes.
Day Lift Ticket
The day lift ticket can be purchased at the ticket office and online. If purchased online, you will need to pick up the lift ticket at Keystone ticket offices. This is almost always the most expensive option as you are purchasing last minute. 
Mountain Access: This ticket will only give you lift access to Keystone and Crested Butte. 
Cost: Most expensive option, price varies day to day. Ranges from $150 - $200 per day for an adult ticket. 
Days Valid at Keystone: Valid for the days you've purchased the ticket. 
Available for Purchase: After early December when EPIC passes go off sale.
Ideal for: Unplanned ski vacation or a last-minute day trip to Keystone. 
Keystone Kids Ski Free Program
Keystone has a special program where kids under 12 years of age can ski for free. There are some limitations to the program:
The child needs to be under 12 years of age on the ski days
You must be staying at Keystone Resort-operated lodging for two or more nights to receive one free day of skiing, plus an additional day for each additional night booked. (For example; if a customer books 5 nights of lodging, they will receive 4 days of kid tickets).
Eligible lodging includes:
River Run Village (By Keystone Resort)
Timbers and Lone Eagle
Keystone Lodge and Spa
Evergreen Condominiums
Hyatt Place Keystone
Keystone Lakeside Village
Ski Tip Lodge
Slopeside Condominiums
Gateway Mountain Lodge
Aspen Ridge Condominiums
Forest Condominiums
If you meet the above criteria, a wristband can be collected for each eligible child at Keystone Central Reservations. Proof of age might be required.
EPIC Day Pass (Limited)
The EPIC day pass ranges from 1 to 7 days with the option of restricted and unrestricted. Restricted passes cannot be used on blackout dates, while unrestricted passes can.
Mountain Access:  This pass gives you access to all 32 resorts owned by Vail Resorts plus partnered resorts (only for 4-day passes and above). This includes major resorts such as Heavenly, Northstar, and Crested Butte.
Cost: The cost of the pass depends on whether it is restricted or unrestricted, with restricted passes being cheaper. The cost also depends on when you purchase the pass. Prices increase around September and November. Ranges from around $80 - $100 per day. 
Days Valid at Keystone: The number of ski days on the passes is valid throughout the entire season, except on blackout dates if a restricted pass is purchased.
Available for Purchase: Usually available for purchase around April until late November to early December. 
Ideal for: When you are certain that you will be going skiing before the ski season.
EPIC Season Pass
This is the flagship product of Vail Resorts which owns and operates Keystone Resort. It has the same access as the EPIC Day passes but is valid for the entire ski season with unlimited days of skiing. It is the most flexible and cheapest option if you are planning on skiing for more than 7 days at Keystone (or any other Vail-owned ski resorts and partners).
Available for Purchase: This goes off sale around late November to early December after which you will need to purchase a lift ticket. 
Additional Benefits: You can purchase discounted over-the-counter lift tickets.
Ideal for: If you are planning to ski a lot at Keystone (or other Vail-owned ski resorts).
Keystone Resort Ski and Snowboard Lessons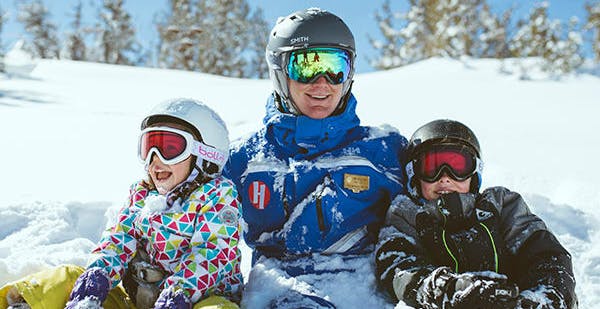 Keystone Ski and Snowboard School offer both group and private lessons as well as ski programs.
Group Lesson: This lesson is catered for a specific ability level for ages 3+ with the option of a full day or half day (AM or PM). 
Private Lesson: This is a customized full or half-day lesson for individuals, groups, or families.
Kroozers Program: This is a Saturday 7-week or Sunday 5-week program for skiers or snowboarders of all levels ages 5-14. 
All Mountain Performance: This is an 11-week program for skiers ages 7-14. It is suitable for advanced skiers level 7 and above. 
Some important things to note:
Lessons do not include lift tickets or rentals, however, you can add them at a discount when booking group lessons only. 
Multi-day lessons are required to be on consecutive dates.
Lesson spots are limited so it is recommended that you book early. Bookings open in the fall.
The prices of the lessons also vary depending on the dates, the most expensive being holiday dates.
Nearest Town to Keystone Resort
Keystone Ski Resort conveniently has a ski village, Keystone, located at the base of the mountain offers. It is approximately 8.5 miles drive from the town of Silverthorne. The town is situated near several major ski resorts, including Keystone, Breckenridge, and Copper Mountain. Many skiers opt to stay in Silverthorne and drive out to the ski destinations because of the cheaper lodging the town offers.
Keystone has lodging in three village areas, the River Run Village, Mountain House and Lakeside Village.
River Run Village: This is the main area with access to the majority of lifts and runs. It is located conveniently at the main base of the resort, it includes everything you need including shops, restaurants and bars. Many popular hotels are located here including River Run Village by Keystone Resort and Timbers and Lone Eagle. 
Mountain House: This area is the resort's original base area and it gives you easy access to Keystone's terrain park. Mountain House does not have many restaurant options but it is only a few minutes drive away from the River Run Village and a free in-resort shuttle is available to take you there. Alternatively, Hyatt Place Keystone is a great accommodation choice. There's a 24/7 dining option, bar, outdoor hot tub and fitness center. 
Lakeside Village: This area is 2 miles away from the main River Run Village, a short shuttle ride or drive will be required to get to the lift. It's a place where you can find an array of accommodation options including Keystone Lodge & Spa by Keystone Resort, Evergreen Condominiums, Keystone Lakeside Village, Aspen Ridge Condominiums and  Forest Condominiums.
Keystone offers a range of dining options that are highly-rated dining locations.
Offer a warm, rustic atmosphere and live entertainment, as well as its menu filled with hearty American fare.
Opening hours (subject to change): 4 pm-1 am 
Kickapoo Tavern is conveniently located at the base of the gondola, it is a family-friendly pub-style restaurant. Great for lunch, dinner, or après-ski, you'll find pub classics such as burgers here as well as Mexican eats.
Opening hours (subject to change): 11 am-9 pm (Sun - Thur), 11 am-10 pm ( Fri, Sat) 
Fine dining experience with a selection of meat and seafood options and seasonal vegan dishes. Please note reservation is required.
Opening hours (subject to change): 5 pm-10 pm (Wed-Sun), Closed (Mon, Tue)
Keystone Resort Contact Information
Address: Keystone, CO 80435, United States
Phone number: (970) 496-4386
Frequently Asked Questions
Are there ski packages to Keystone Resort?
There are ski vacation packages available for Keystone Resort, which bundle lodging, lift ticket, rental, and transfers together to make your ski vacation planning a lot easier. See Keystone ski packages for more information. 
When is the best time to go skiing in Keystone Resort?
Keystone ski season tends to start from late December to early March, with the best snow conditions between January to February.
What amenities are available at Keystone Resort?
Keystone offers plenty of amenities in the ski village including spas & salons, many dining and shopping options, parking lots and daycare. There are also plenty of winter activities to do including ice skating, sleigh ride, snow fort, tubing and more.
How much does it cost to rent ski equipment at Keystone Resort?
There are several rental shops in Keystone with varying prices. In general, ski package start from $53 and snowboard packages start from $62 per day for adult (online price). Helmet rentals are $14 per day. Please note the prices are subject to change.
How far is Keystone from the airport?
Keystone is approximately 100 miles away from Denver International Airport and 74 miles away from Eagle County Regional Airport.
Further and Related Reading