Palisades Tahoe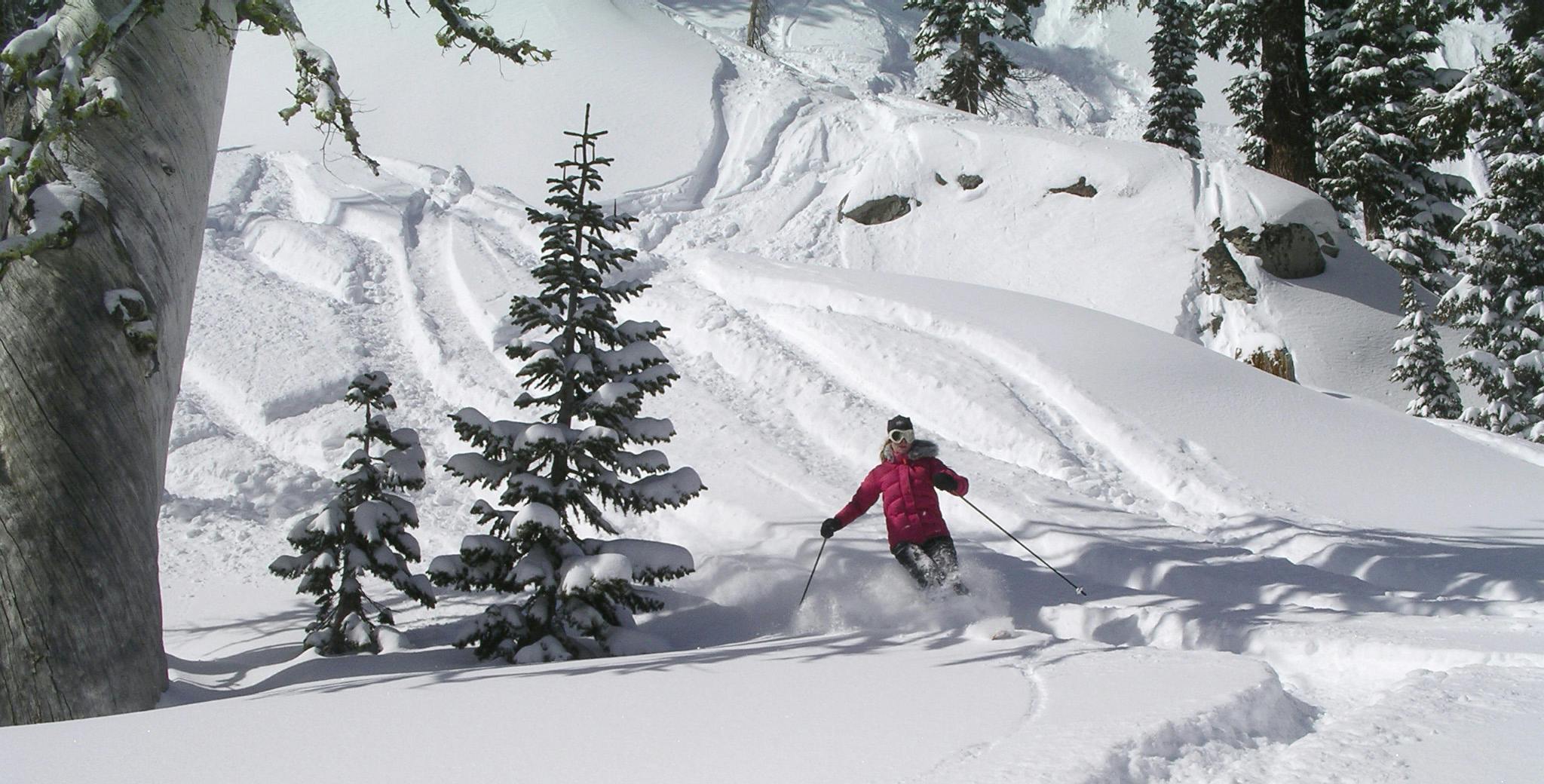 We have put together a list of everything you need to know about Palisades Tahoe.
Palisades Tahoe, formerly known as Squaw Valley Alpine Meadows, is a renowned ski destination located in California. The resort is known for its challenging terrain vibrant ski culture and rich history, including hosting the 1960 Winter Olympics. 
Ski Terrain
Beginner runs: 25%
Intermediate runs: 42%
Advanced runs: 33%
Expert runs: 0%
Total ski runs: 270
Terrain Parks: 5
Mountain Statistics
Summit elevation: 9050 feet
Skiable area: 6000 acre
Average Snowfall: 450 inch
Palisades Tahoe Trail Map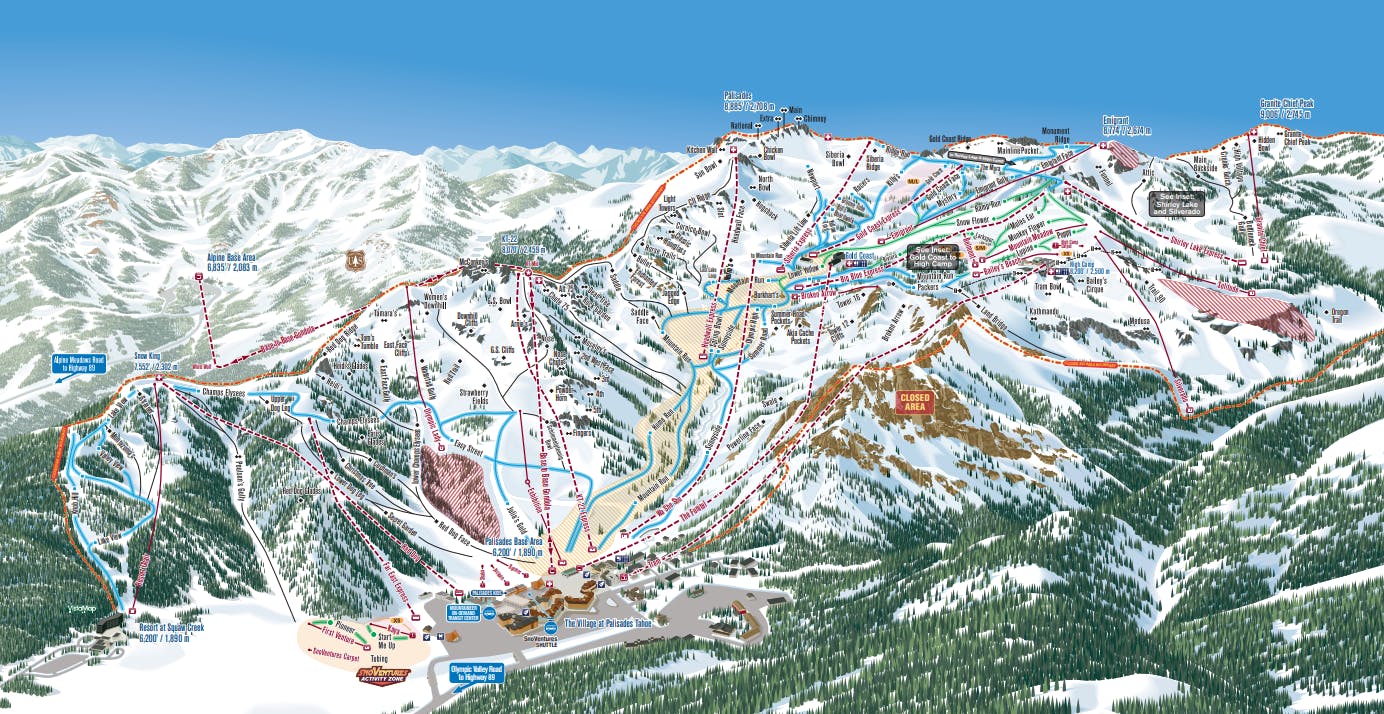 Palisades Tahoe Lift Tickets
Palisades Tahoe offers day lift tickets and Ikon Passes. Below are the differences between the two ticket types.
Day Lift Ticket
Palisades Tahoe day lift tickets give you access to both Palisades and Alpine mountains. You can buy up to 6 single-day tickets. 2-day and 3-day tickets allow you to ski any non-consecutive 2 or 3 days respectively throughout the ski season.
Ikon Passes
You can access Palisades Tahoe on all types of Ikon Passes. Ikon passes are available for purchase pre-ski season until around the end of November and are ideal for people planning to ski at multiple resorts. The differences between the passes are highlighted below.
Ikon Pass gives unlimited access to 15 resorts and up to 7 days each at 40 ski resorts with no blackout dates throughout the ski season. You get unlimited access to Palisades Tahoe. 
Ikon Base Pass gives unlimited access to 14 resorts and up to 5 days each at 34 resorts with blackout dates for some resorts. This pass gives unlimited access to Palisades Tahoe excluding blackout dates. It is cheaper than Ikon Pass so it is ideal for those who do not require access to all Ikon resorts.
Ikon Session Pass has the option of 2, 3, or 4 total days of access at 40 resorts, including Palisades Tahoe, with blackout dates. This is ideal for those who want some flexibility in resort access and will be skiing the selected days on the pass at Palisades Tahoe (or other Ikon resorts).
Palisades Tahoe Ski and Snowboard Lessons
Palisades Tahoe Ski School offers group and private lessons as well as special programs for ages 3 and above for all levels. Lift tickets and rentals are not included in the lessons.
Group Lessons: These lessons are half-day and also have a special package option at Alpine only. Lessons for children aged 3-4 are limited to up to 4 people.
Private Lessons: This lesson can have up to 5 people with similar ability levels and can be full-day or half-day.
Special Programs: There are Kids' Multi-Week Ski Programs which include skiing full-day or half-day once a week across 4 to 8 weeks. There are also Alpine Unlimited lessons and the Women of Winter clinic/camp. Check out the 7 reasons to book a ladies' ski camp.
Nearest Town to Palisades Tahoe
The nearest town to Palisades Tahoe is Olympic Valley, but many skiers also choose to stay in the larger and nearby town of Truckee due to its range of accommodation options from luxury resorts to cozy cabins. Some skiers also choose to stay at Palisades Tahoe ski-in-ski-out lodgings to maximize their time on the slopes. Staying in Truckee also provides easy access to other ski resorts including Northstar California, Sugar Bowl Resort, and Heavenly, making it a convenient base for skiers looking to visit multiple resorts in one trip.
Palisades Tahoe has a few highly-rated on-mountain dining options.
Tremigo Mexican Kitchen & Tequila Bar
Located in the base village of Palisades, this dining option offers Mexican cuisine and drinks.
Opening hours (subject to change): 11:30 am–9 pm (Mon-Sun)
The Arc at Gold Coast Lodge
Located at the top of The Funitel lift, The Arc serves soups, grilled foods, and Asian cuisine. 
Opening hours (subject to change): 9 am-2 pm (Mon-Sun)
Granite Bistro Cafe
Located at High Camp at the top of Aerial Tram, this dining spot offers salads, tacos, burgers, and drinks.
Opening hours (subject to change): 10 am-3 pm (Mon-Sun)
Palisades Tahoe Contact Information
Address: 1960 Squaw Valley Road, Olympic Valley, CA 96146, United States
Phone number: (800) 403-0206
Email: info@palisadestahoe.com
Frequently Asked Questions
Are there ski packages to Palisades Tahoe?
When is the best time to go skiing in Palisades Tahoe?
Mid-February to Mid-March are the best months to visit as you avoid the holiday crowds during Christmas and New Year.
What is the nearest airport to Palisades Tahoe?
Reno-Tahoe International Airport is around 48 miles or a 1-hour  drive from Palisades Tahoe. You can take a scheduled shuttle like North Lake Tahoe Express to take you directly from the airport to your lodging if you do not want to drive.
How much does it cost to rent ski equipment at Palisades Tahoe?
A standard ski/snowboard package costs $55-59 for 1 day for adults and $34-36 for children. The price varies depending if you are renting mid-week or on weekends and holidays. A helmet is included in the child's rental package but is an additional $15 per day for adults. Please note that prices are subject to change, visit Palisades Tahoe rentals for the most updated information.