Brighton Resort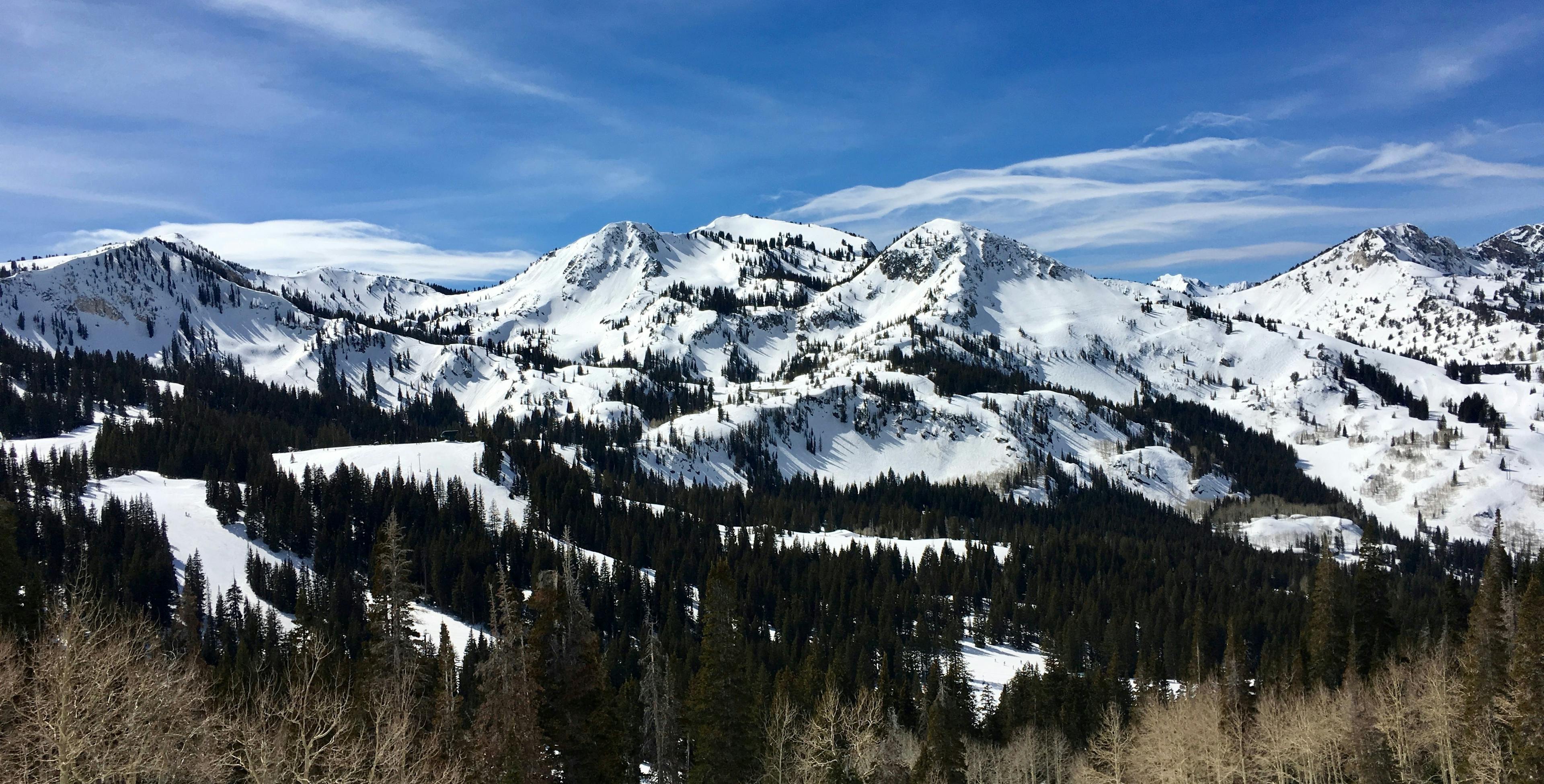 We have put together a list of everything you need to know about Brighton Resort.
Brighton Resort, located in Big Cottonwood Canyon, Utah, is one of the oldest skiing locations in the United States. It is known for its night skiing, offering the most extensive night skiing program in the entire West, with over 200 acres lit up during the winter season.
Ski Terrain
Beginner runs: 21%
Intermediate runs: 40%
Advanced runs: 39%
Expert runs: 0%
Total ski runs: 66
Terrain Parks: 1
Mountain Statistics
Summit elevation: 10500 feet
Skiable area: 1050 acre
Average Snowfall: 500 inch
Brighton Resort Trail Map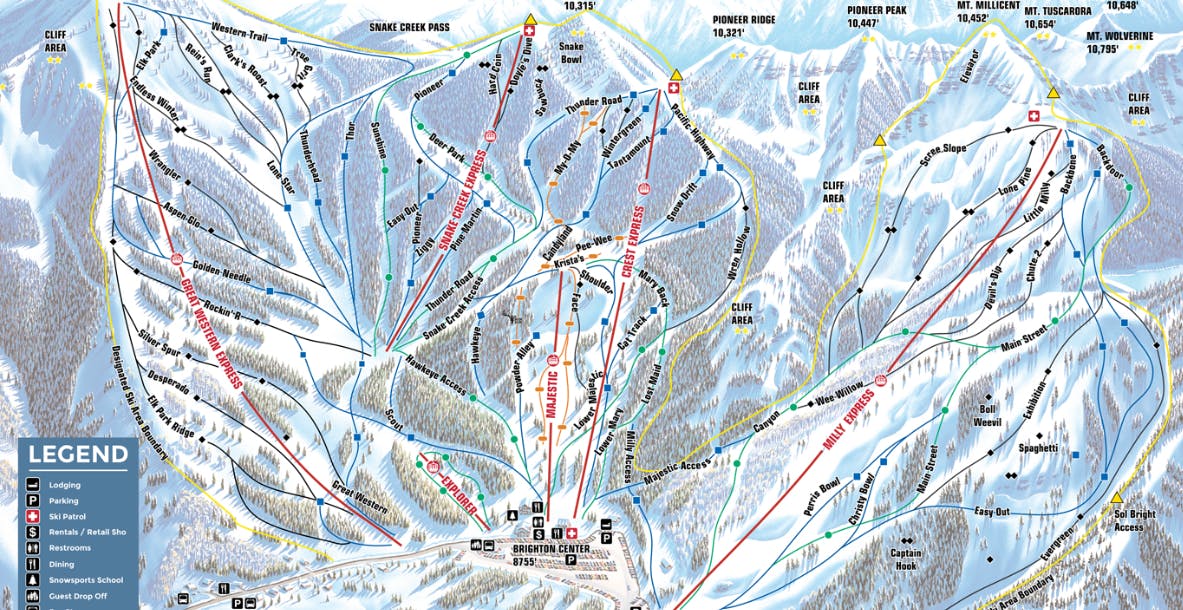 Brighton Resort Lift Tickets
Bright Resort offers lift tickets, season passes, Salt Lake Ski Super Pass, and Ikon Passes. Below are the differences between the lift ticket types. 
Lift Tickets
Brighton lift tickets require a one-time fee of $5 for a reloadable card. For each paying adult, up to two children 6 and under can ski for free.
All-Day: This ticket is valid from 9 am - 4 pm. When night skiing is available, you can ski from 9 am to 9 pm.
7-Hour: This ticket is available for sale when night skiing is in operation. It gives you 7-hour access from the time you scan your ticket.
4-Hour P.M.: This ticket gives you 4 hours of lift access after 12 pm.
Night Ticket: This ticket gives you access to night skiing from 4 pm - 9 pm when open.
Learner Ticket: This ticket gives you all-day access to beginner slopes via Majestic and Explorer chairlifts only.
There are also military and single-ride tickets available, but they can only be purchased at the ticket office.
Season Pass
Brighton Resort offers several season passes to cater to different preferences.
Platinum Season Pass: This gives you both a Brighton Unlimited Pass and an Ikon Base Pass. Additional benefits include receiving a free buddy pass along with the other benefits that come with the two passes.
Unlimited Season Pass: This pass gives you unlimited access without blackout dates to Brighton Resort throughout the ski season. Additional benefits include one free midweek day access each at Deer Valley, Alta, and Snowbird, as well as three free days at each of the Boyne Resorts including Boyne Mountain Resort.
Base Season Pass: This pass gives you unlimited access, except on blackout dates, to Brighton Resort.
Midweek Season Passes: This pass gives you access to Brighton Resort between Monday to Friday throughout the ski season except on blackout dates.
Twilight Season Passes: This pass gives you access to Brighton between 2 pm to 9 pm throughout the ski season when night riding is open, with no blackout dates. It is only available for ages 13 and above.
Salt Lake Ski Super Pass
The Salt Lake Ski Super Pass gives you access to Salt Lake's world-class resorts, Alta, Solitude, Brighton, and Snowbird, throughout the ski season with no blackout dates. 
Available for purchase: Pre-ski season until around the end of November
Mountain Access: Access to Brighton for the number of days purchased. You can only access one resort per day, except for Brighton and Solitude, which can be skied on the same day.
Days valid at Brighton: There is the option of 3 to 10 days, which must be used within 14 days after the first day of use.
Additional Benefits: Complimentary transportation on UTA ski buses and TRAX light rail, and discounted rentals.
Ideal for: Skiing for 3-10 days at multiple resorts.
Ikon Passes
You can access Brighton on all types of Ikon Passes. Ikon passes are available for purchase pre-ski season until around the end of November and are ideal for people planning to ski at multiple resorts. The differences between the passes are highlighted below.
Ikon Pass gives unlimited access to 15 resorts and up to 7 days each at 40 ski resorts with no blackout dates throughout the ski season. You can access Brighton for a total of 7 days. 
Ikon Base Pass gives unlimited access to 14 resorts and up to 5 days each at 34 resorts with blackout dates for some resorts. This pass gives 5-day access to Brighton excluding blackout dates. It is cheaper than Ikon Pass so it is ideal for those who do not require access to all Ikon resorts.
Ikon Session Pass has the option of 2, 3, or 4 total days of access at 40 resorts, including Brighton, with blackout dates. This is ideal for those who want some flexibility in resort access and will be skiing the selected days on the pass at Brighton (or other Ikon resorts).
Before skiing at Brighton, you must make a lift reservation.
Brighton Resort Ski and Snowboard Lessons
Brighton Resort Ski School offers private lessons, group lessons, night lessons, women's workshops, and kid's camps for ages 3 and above. 
Children Lessons: They have a well-structured children's program, with half-day or 2-hour lessons available for kids as young as 4. Children aged 3 can begin learning how to ski through private lessons only. 
Adult Lessons: For adults, there are 2-hour group lessons as well as private lessons, which provide personalized attention for faster progress. There is also a beginner package which includes a learner ticket, 2-hour group lesson and rental in the price.
Night Lessons: This is a 2-hour lesson available on Thursdays only for ages 8 and above, between 6 pm to 8 pm. 
It is highly recommended to book lessons in advance as spots are limited. 
Nearest Town to Brighton Resort
Brighton Resort is located in the small town of Brighton itself, which is around 35 miles drive from Salt Lake City International Airport. The town has a few ski-in-ski-out and walk-to-lift lodgings so you can maximize your time on the slopes. This town also provides easy access to Solitude Mountain Resort, which is only a short drive away. However, Brighton has limited amenities, shopping, and dining options, so some skiers choose to stay in the suburb of Cottonwoods Heights.
Brighton Resort has a few dining options at the base of the mountain.
Molly Green's Tavern
Located on the third floor of the A-frame base lodge, it provides a cozy setting with a full bar, grill-style food, and a panoramic view of the mountains.
Opening hours (subject to change): 11 am-10 pm (Mon-Sun)
Alpine Rose Cafeteria
Conveniently located at the base of the mountain, the Alpine Rose offers breakfast, lunch, and dinner, serving from burgers to pizzas.
Opening hours (subject to change): 8 am-9 pm (Mon-Sat), 8 am-4 pm (Sun)
Blind Miner Coffee
This is the go-to place for a quick grab-and-go breakfast or lunch, featuring a variety of sandwiches, pastries, and coffee drinks.
Opening hours (subject to change): 8 am-5 pm (Mon-Sun)
Brighton Resort Contact Information
Address: 8302 S Brighton Loop Rd, Brighton, UT 84121, United States
Phone number: (801) 532-4731
Frequently Asked Questions
Are there ski packages to Brighton Resort?
When is the best time to go skiing in Brighton Resort?
January and February are a great time to visit. With smaller crowds and snowfall typically through to April, Brighton is a great resort to visit all season. However, to skip the holiday goers avoid traveling during December, Martin Luther King weekend, and President's Day weekend.