Snowbird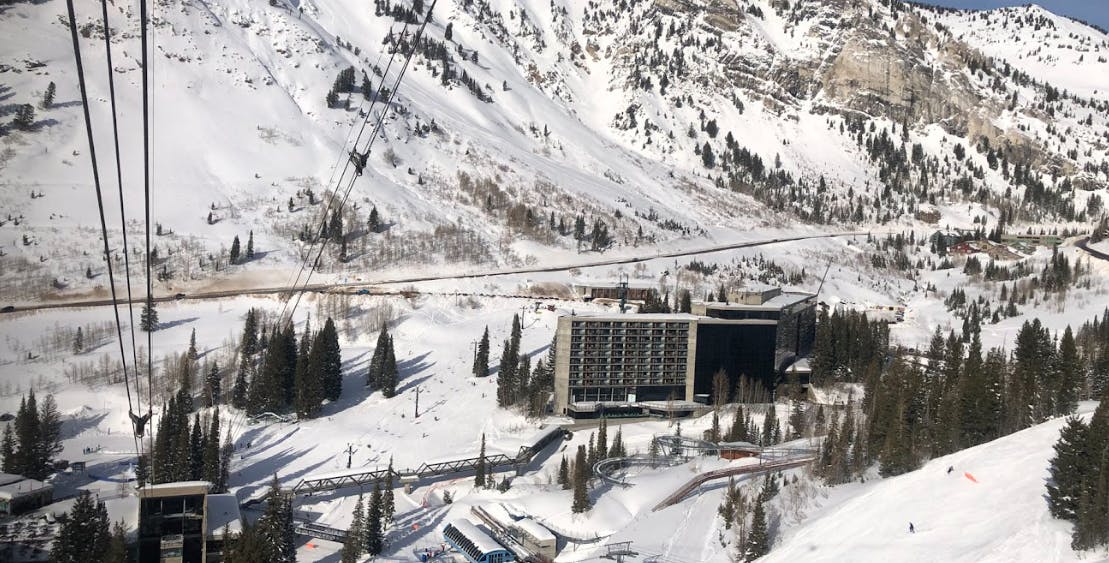 We have put together a list of everything you need to know about Snowbird.
Snowbird is a world-class ski resort located in Little Cottonwood Canyon. It is renowned for its abundance of light, fluffy snow, also known as the "Greatest Snow on Earth". Snowbird is also known for its challenging terrain with chutes to bowls, making it an expert's playground.
Ski Terrain
Beginner runs: 27%
Intermediate runs: 38%
Advanced runs: 20%
Expert runs: 15%
Total ski runs: 169
Terrain Parks: 1
Mountain Statistics
Summit elevation: 11000 feet
Skiable area: 2500 acre
Average Snowfall: 500 inch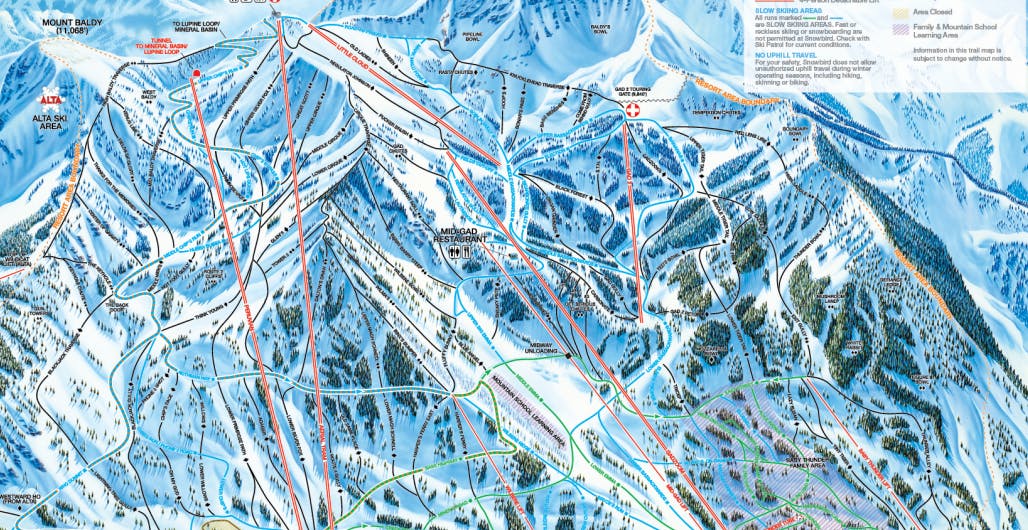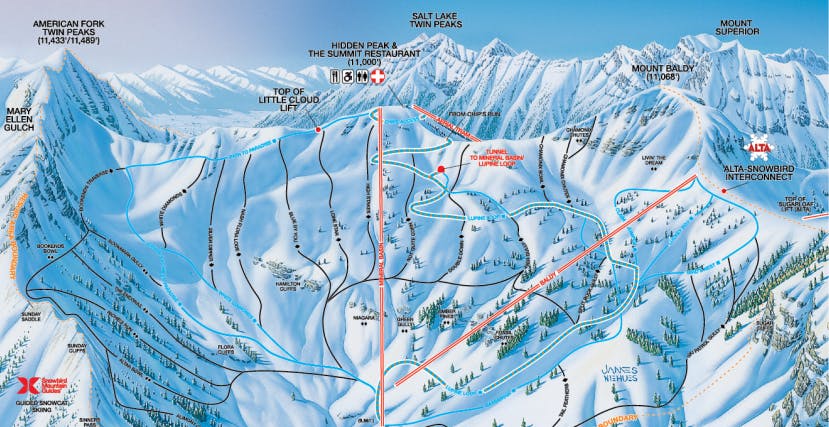 Snowbird offers several different types of lift tickets. Below are the differences between the lift tickets.
Day Lift Ticket
Snowbird offers two types of day lift tickets, which can be picked up from the Pick-Up boxes at Snowbird Center, The Cliff Lodge, and Creekside. The pricing varies based on peak, non-peak, and holiday periods. Children age 6 and under can ski for free.
Full-Day Ticket: Full Day access to the lifts at Snowbird. For multi-day lift tickets, you have 1 rest day (e.g. 3 day lift ticket must be used within 4 days of the start date).
Half-Day Ticket: Access to Snowbird after 12:30 pm on the day.
Season Pass
The Snowbird Season Passes are available for purchase pre-ski season. The differences between the three Snowbird season passes are highlighted below.
Summit Pass: This pass gives you unlimited access to Snowbird throughout the ski season. There are additional benefits including an option to add an Ikon Base Pass for only $349 as well as a free Kids Pass with the purchase of a qualifying Adult, Senior, or Military pass.
Alta-Bird Pass: This pass gives you unlimited, unrestricted access to both Alta and Snowbird throughout the ski season. It includes 2 free days each at Deer Valley and Brighton, but cannot be used on Friday-Sundays or holiday dates.
Flex-5 Pass: This pass gives you 5 days of access at Snowbird with no blackout dates during the ski season. 
Salt Lake Ski Super Pass
The Salt Lake Ski Super Pass gives you access to Salt Lake's world-class resorts, Alta, Solitude, Brighton, and Snowbird, throughout the ski season with no blackout dates. 
Available for purchase: Pre-ski season until around end of November
Mountain Access: Access to Snowbird for the number of days purchased. You can only access one resort per day, except for Brighton and Solitude, which can be skied on the same day.
Days valid at Snowbird: There is the option of 3 to 10 days, which must be used within 14 days after the first day of use.
Additional Benefits: Complimentary transportation on UTA ski buses and TRAX light rail, and discounted rentals.
Ideal for: Skiing 3-10 days at multiple resorts.
Ikon Passes
You can access Snowbird on 2 types of Ikon Passes. Ikon passes are available for purchase pre-ski season until around the end of November and are ideal for people planning to ski at multiple resorts. The differences between the passes are highlighted below.
Ikon Pass gives unlimited access to 15 resorts and up to 7 days each at 40 ski resorts with no blackout dates throughout the ski season. You can access Snowbird (or Alta Ski Area) for a total of 7 days. 
Ikon Base Plus Pass gives unlimited access to 14 ski resorts and up to 5 days each at 41 destinations with some blackout dates. You can access Snowbird (or Alta Ski Area) for a total of 5 days except on blackout dates.
Mountain Collective
The Mountain Collective Pass provides 2-day access each to 24 ski resorts across 5 continents with no blackout dates. 
Mountain Access: 2 days total at Snowbird.
Additional Benefits: Half-price for additional days at the Collective resorts and lodging deals.
Ideal for: People who want to ski at multiple ski resorts for a short period.
Snowbird Ski and Snowboard Lessons
Snowbird Ski School offers a variety of lesson types for ages 3 and up including private lessons, group lessons, multi-week programs, and adult snowboard camps. The lessons are either full-day or half-day depending on the skill level, age, and lesson type. Lift ticket, rentals, and lunch is not included in most of the lessons. It is highly recommended to book lessons in advance online to guarantee a spot.
Snowbird is located just less than an hour drive from Salt Lake City, Utah. It is known as the gateway to world-class ski resorts with the "Greatest Snow on Earth", including Alta, Brighton, Deer Valley, and Park City. International and domestic skiers can also easily reach Salt Lake City by air with Salt Lake City International Airport situated close to the city centre.
There are many lodging options in Salt Lake City and the areas close to it, however, if you want to maximize your time on Snowbird's slopes it is recommended to stay at one of the few Snowbird ski-in-ski-out lodgings. 
Snowbird has several highly-rated mountain dining options available.
The Summit
Located at the top of the Aerial Tram, The Summit offers gourmet, made-to-order cuisine with a panoramic view of Hidden Peak at 11,000 feet.
Opening hours (subject to change): 11am - 6pm (Mon-Sun)
Mid-Gad Restaurant
Situated mid-mountain, this restaurant provides skiers a quick, delicious break from the slopes with an assortment of offerings from pizza to soups and sandwiches.
Opening hours (subject to change): 9am - 3:30pm (Mon-Sun)
The Tram Club
Located in Snowbird Center, this restaurant serves a variety of drinks and apres-ski specials including beer, sandwiches, loaded fries, and pizza.
Opening hours (subject to change): 12pm - 6pm (Thu-Sun)
Snowbird Contact Information
Address: 9385 S. Snowbird Center Dr., Snowbird, UT 84092-9000
Phone number: (801) 933-2222
Email: info@snowbird.com
Frequently Asked Questions
Are there ski packages to Snowbird?
When is the best time to go skiing in Snowbird?
Mid-February to early March is a great time to visit Snowbird as it is when there's plenty of snow and sunshine. That said, if you're lucky, you can catch a powder storm later in the season and skip the busy holiday season which means cheaper lodgings. If you find yourself at Snowbird late into the season, follow the sun over the course of the day to find the best conditions.