Colorado Road Conditions on the I-70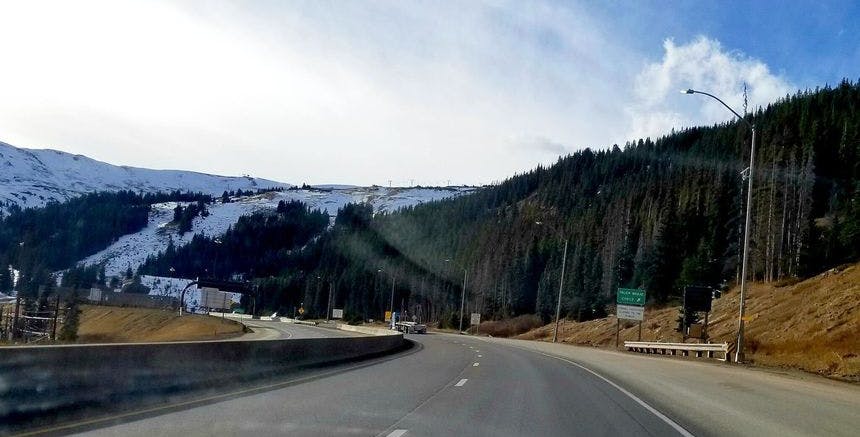 If you're coming to ski here in our stunning Rocky Mountains and explore the best Colorado ski resorts, prepare to battle the notorious Interstate 70. It is the gateway to over a dozen ski resorts in Colorado and is also famous for its congested traffic and the occasional accident. The winter weather conditions, steep inclines, and high-speed traffic make this a challenging drive. Lucky for you, as a local skier who braves the I-70 on a daily basis every winter, I'm going to give away my secrets on avoiding traffic, alternative routes, and the best places to fill up both your car and stomach!
The bulk of the drive for destination skiers is from Denver International Airport to Glenwood Springs (where you turn off for Aspen Snowmass) and this takes a minimum of 3 hours. The I-70 "Corridor" covers most of the big resorts (Keystone, Breckenridge, Copper Mountain, Vail, and Beaver Creek) and there are seven segments to this journey:
DIA to Golden – This leg will take you through Denver city and all rules around peak hour traffic apply! Try to time your flight or drive to dodge the morning and evening traffic (Friday afternoon is especially horrendous).
Golden to Idaho Springs – 30 minutes: The ascent begins, so prepare your body for altitude sickness. On a powder day, I'm already on I-70 near Golden by 6:00 am, especially on a Saturday. Traffic starts building up after that and starts clearing by 11:00 am.
Idaho Springs to Georgetown – 20 minutes: Georgetown will be your last chance to fuel up before reaching Summit County on the other side of the Continental Divide. This is a smooth drive, just make sure you don't get stuck behind a semi-truck struggling to make the climb.
Georgetown to Eisenhower Tunnel or Loveland Pass – 20 minutes: If you're going to Arapahoe Basin, you have the option of skipping the Eisenhower Tunnel choke point by taking Loveland Pass. Just be wary of the conditions!
Eisenhower Tunnel to Breckenridge & Copper Mountain – 40 minutes: For Breckenridge, take Highway 9 off I-70 to avoid steeper and curvier roads that you encounter on Highway 6 to Route 1. For Copper, beware of black ice! Ten Mile Canyon leading from Frisco up to the resort is deceptively sloped and I've seen careless drivers going too fast sliding off into the ditches.
Vail Pass to Vail Resort and Beaver Creek – 30-50 minutes: Beware the downhill section of Vail Pass - it descends faster than most think and is often the location of many accidents that shut down the interstate!
Beaver Creek to Glenwood Springs – 1 hour: Traffic is smooth sailing after Beaver Creek, but there might be detours if you're heading to Aspen as the Grand Avenue Bridge at Glenwood Springs has road construction during off-peak hours.
My best advice is to avoid peak travel times in the morning and evenings with the exception of Friday, when the traffic buildup starts as early as noon. To give you an idea of timing, on a Saturday or a powder day, I'm looking to be on I-70 near Golden by 6:00 am at the latest. Also, make sure to check the COtrip website for travel forecasts on the day before your trip. Now If this is your first time tackling the I-70, here are some tips that might be helpful about this drive.
From DIA, you'll navigate your way across the Denver Metro Area into the town of Golden, which represents the start of the "I-70 Corridor" to the Rockies. Before getting on the I-70, it is highly recommended to check the tread depth on your tires, poor tire condition is one of the biggest causes of accidents on the I-70. Check the CDOT website for a guide on tire tread tests.
From Golden, this is where the elevation starts to climb. So if you're not from here (or anywhere with an elevation of 5,000 ft or higher ), coffee-filled bladders and altitude sickness can already begin to cause discomfort. Most likely all you have heard upon arriving in our Mile High City is "Drink lots of water!" That's great advice, but you will pay the price if you don't plan your restroom stops as a group.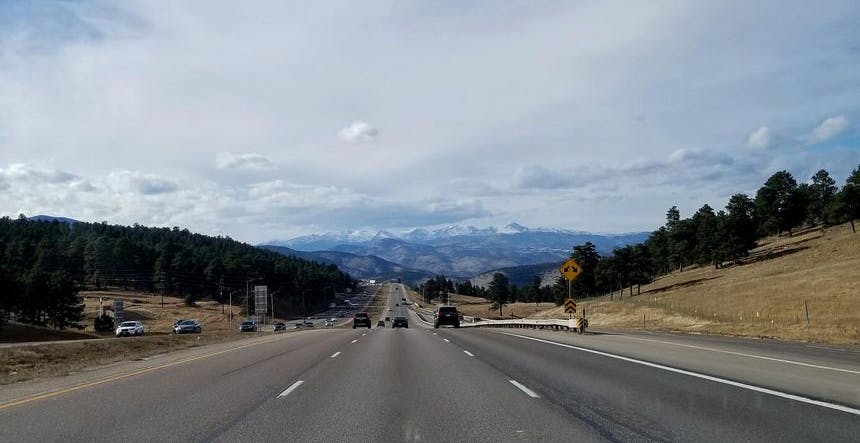 I-70 from Golden to Idaho Springs
From Golden, I-70 rises and falls with what may at first appear to be a very accommodating wide multi-lane highway. But the reality is during normal hours, this leg of the journey is a bit of a 'choose your own adventure'.
Right Lane: The far right-hand lane is for slower traffic, but you will find yourself stuck behind semi-trucks or buses that can't go any faster.
Middle Lane: The middle lane is the riskiest lane with cars dodging in and out of the right-hand lane as they come upon those slow-moving vehicles. It's most severe when one of the semi-trucks decides to overtake a slower vehicle by pulling unexpectedly out in front of you.  You slow to an abrupt crawl, which is a screeching halt for the half a dozen cars behind and the start of an accident-prone scenario.
Left Lane: At this stage, you might be thinking the far left lane is the winner - if you rented a high-powered sports car or SUV version of one. In other words, you better have the horsepower and acceleration. Driving in the far left lane, you are an unwilling link in a bullet train of tailgating cars. I kid you not! It's all good if everyone in the lane has similar driving skills, vehicle performance, and an understanding of the dynamics of high-speed drafting. Unfortunately, the drivers who don't can cause a chain reaction that leads to terrible traffic accidents in a blink of an eye. That's no way to start your vacation! So it's best to use the left for passing only (provided you have the power, tires, and gusto!) and get back over to the middle or right lane.
Sounds a bit daunting, but you can avoid all this by dodging peak travel times! Like I said earlier, be sure to be on the I-70 at Golden by 6:00 am at the latest! 
The next stop on the I-70 is Idaho Springs, a small mining town turned traveler stop. In fact, Gold Mine Tours are still possible at the ARGO Mine in this town. This is a welcomed relief stop for many, especially if you've started from DIA. So, take that much needed restroom break, grab some food and fill up your car if necessary! There are a few fast food eateries here (and a brand new Starbucks) if you need a quick bite.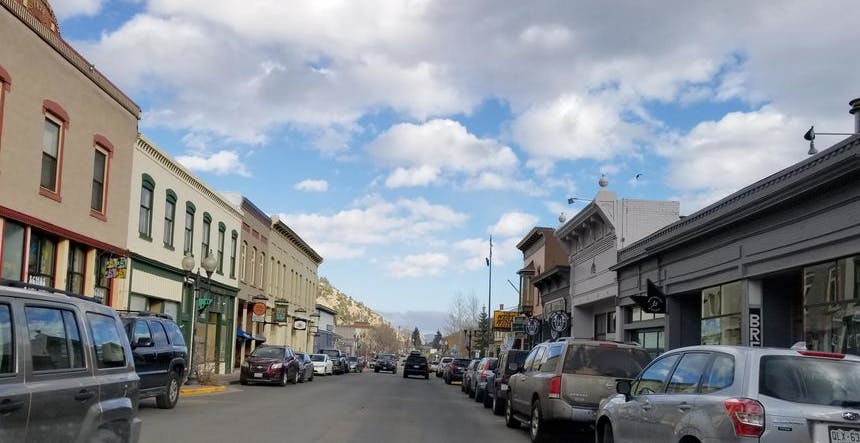 Main street at Idaho Springs
You may choose to keep going another 5 mi up to pitstop at Dumont. This is recommended if Idaho Springs already looks congested. Dumont only has two exits, so don't miss it or you might as well keep going to Georgetown. Dumont also has a Starbucks, which is conveniently located next to a Breeze Ski Shop for Ski & Snowboarding gear. The Taco Bell opens at 7:00 am, but if you took my advice about avoiding peak traffic times, you'll hopefully be long past Dumont by then.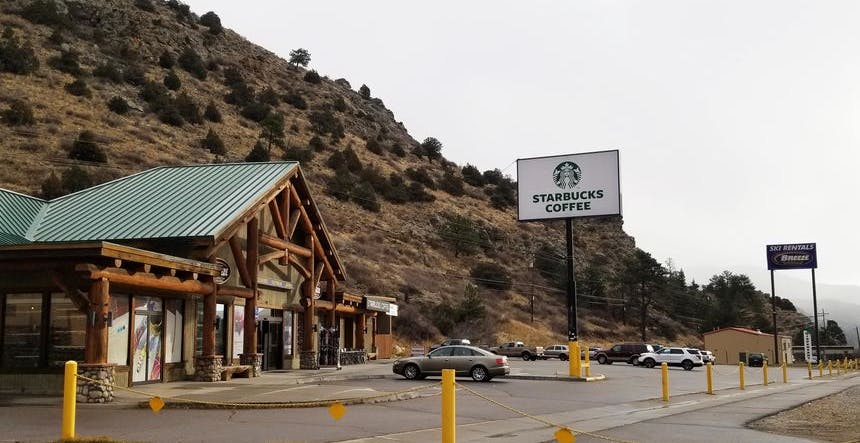 Starbucks and Breeze ski rentals shop at Dumont
Idaho Springs to Georgetown
From here, the historic town of Georgetown is your last chance to fuel up your car or your body before crossing the Continental Divide. Most people choose to continue on until they pass the Eisenhower Tunnel and arrive in Silverthorne.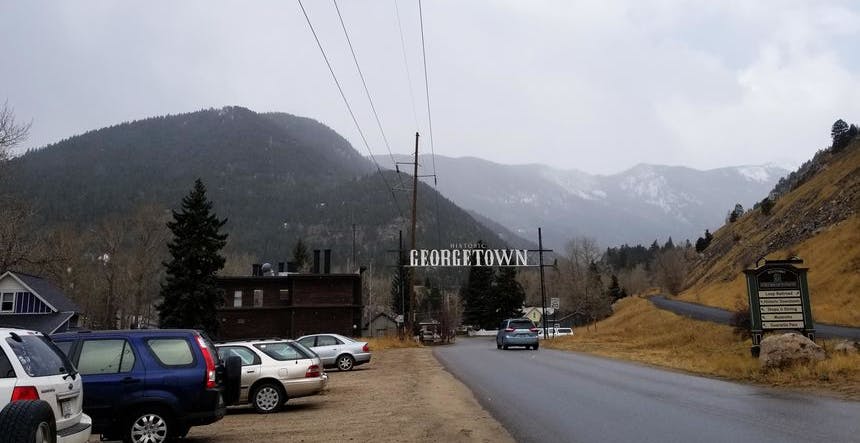 Georgetown gateway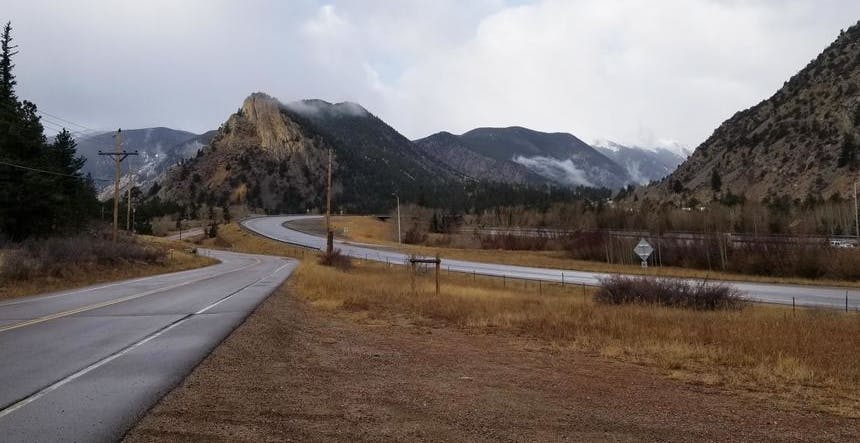 Going to Winter Park? Take I-40 exit between Idaho Springs and Georgetown
As you near Georgetown, the traffic is mostly the same, however, this changes when you are actually passing through, or should I say above Georgetown as the I-70 ascends quickly as you pass Georgetown.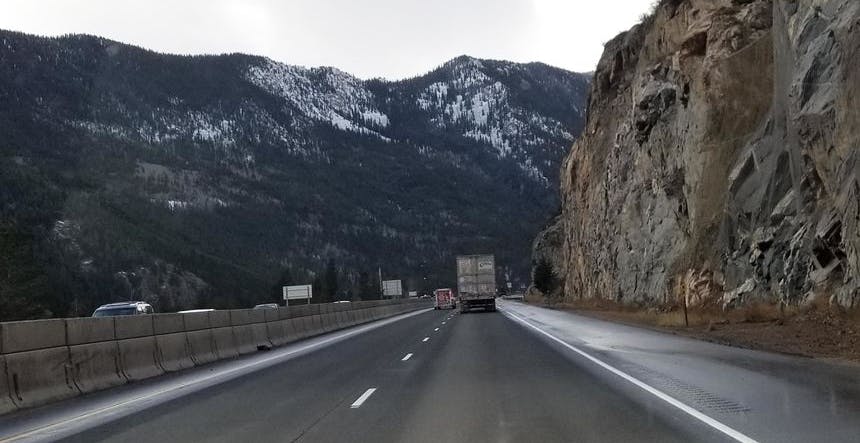 On the I-70 at Georgetown
If you were distracted by the vistas of Georgetown Lake, you can easily find yourself stuck behind a slow moving semi-truck, that can't climb the grade any faster than a snail. Worse yet, the endless stream of cars passing you by in the left lane can go on for days! Not really, but it may feel that way as you try to pass. So take caution and always be looking ahead in this section of I-70.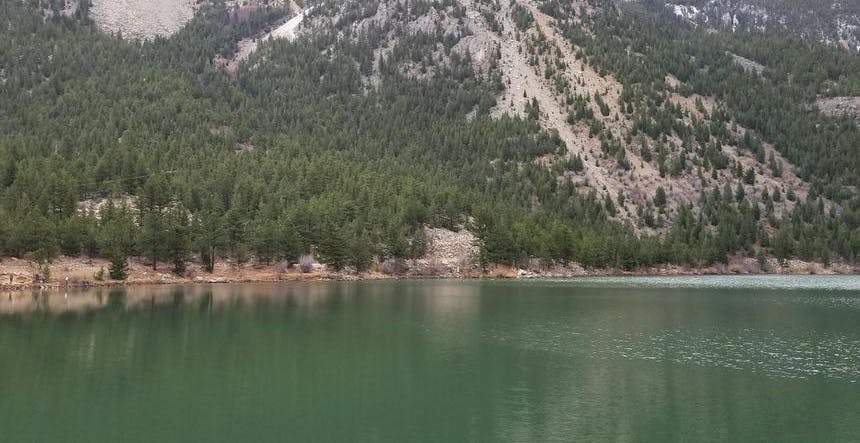 Georgetown Lake
If you're stuck in traffic on the way back to DIA eastbound, and time permits, check out the Alpine Restaurant and Bar at Georgetown. It has long been one of my favorite eateries when I finish up early on the mountain. If you miss Georgetown on your return trip, Idaho Springs also has great lunch or dinner spots such as Two Brothers Deli and Beau Jo's Pizza.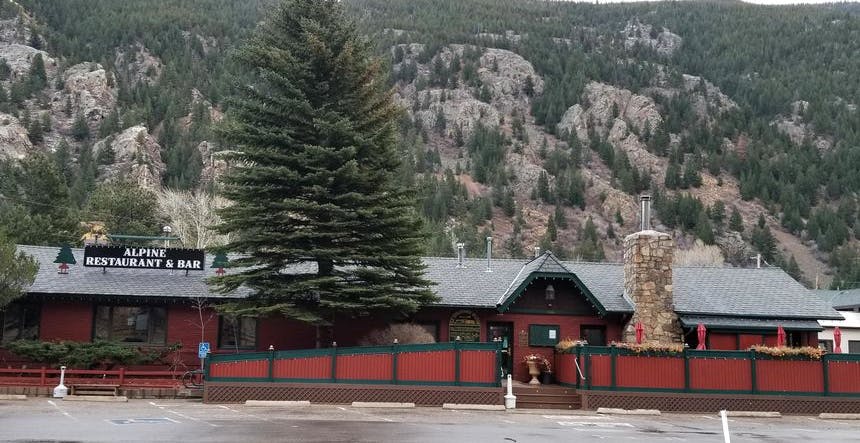 Alpine Restaurant and Bar, Georgetown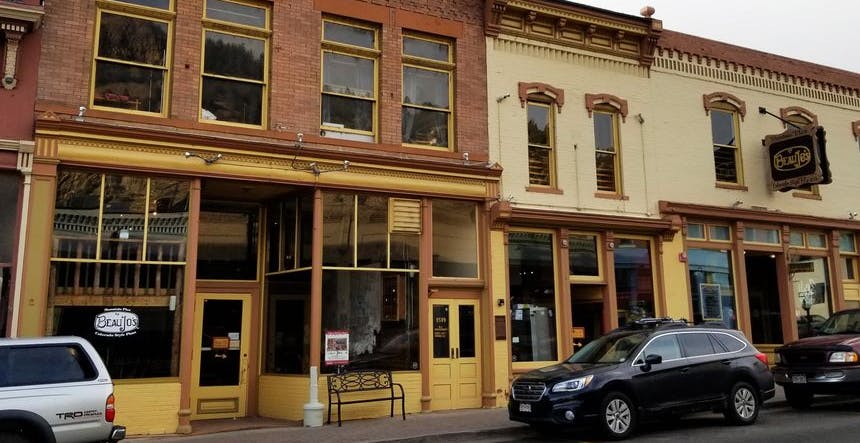 Beau Jo's Pizza at Idaho Springs
Georgetown to Eisenhower Tunnel and Loveland Pass
The road after Georgetown begins a steep ascent, slowing down traffic. During the winter months, this leg of the drive can be extremely treacherous with blowing snow and black ice conditions. It's approximately 14 miles before you reach the Eisenhower Tunnel. Traffic tends to slow down and back up here as the lanes narrow and the speed limit is reduced.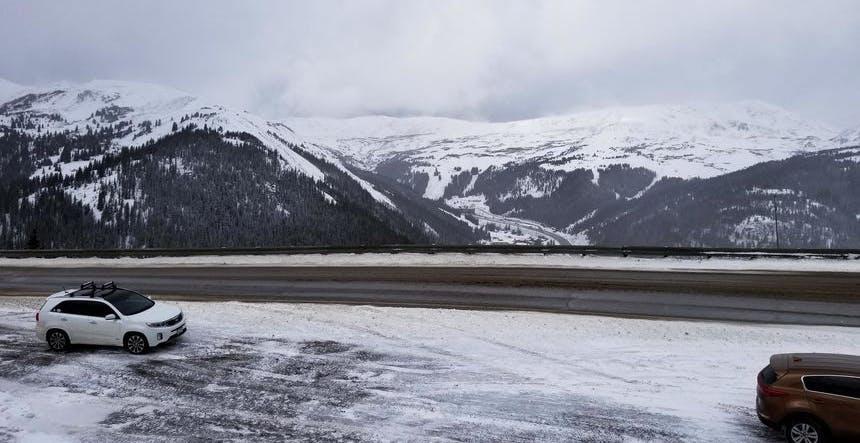 Highway 6 Loveland Pass looking down on Eisenhower Tunnel
By the time you reach Eisenhower Tunnel, you have climbed over 5,000 ft from Golden to reach 11,013 ft of elevation. If you're not used to this elevation, you may start to feel lightheaded, even just sitting in the car. My friend and I measured our oxygen levels (SpO2) while approaching the tunnel and the readings showed that it dropped by as much as 6%. Hopefully, your time spent at this altitude is temporary, unless your plans include skiing at Loveland Ski Area.
As you enter the tunnel, you are now driving under the U.S. Continental Divide, which splits the flow of water of all U.S. rivers from either flowing westward to the Pacific Ocean or eastward to the Gulf of Mexico and Atlantic Ocean. The Continental Divide above the Tunnel within the Loveland ski area is high as 13,010 ft.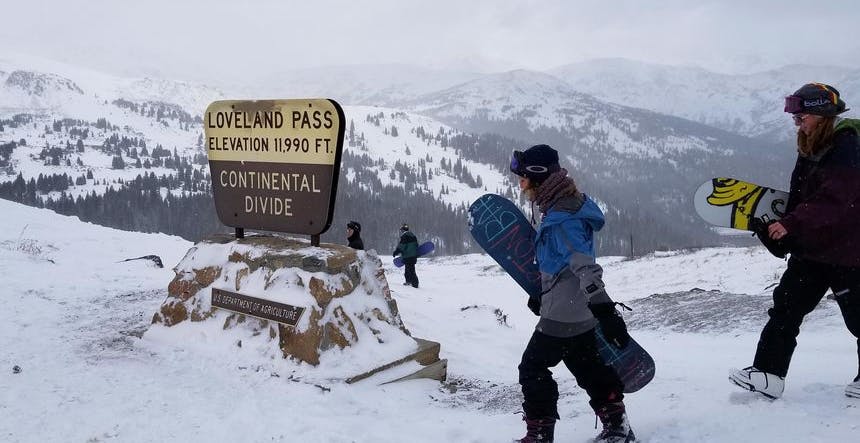 Backcountry snowboarders at Loveland Pass
Just before entering the tunnel, you are offered the opportunity to exit and take Highway 6 over Loveland Pass and the Continental Divide. This will then drop you down into the Arapahoe Basin and Keystone ski resort areas. This route can save a significant amount of time when the road conditions are right but is subject to high winds and blowing snow as it rises quickly above the treeline. On clear weather conditions, with winds below say 20 mi/h, this route can save you time if you're heading to Arapahoe Basin. Word of warning, if the pass is open, semi-trucks carrying hazardous materials are required to take this route, both westbound and eastbound which can mean a slow crawl. If that happens, nothing to do but enjoy the view!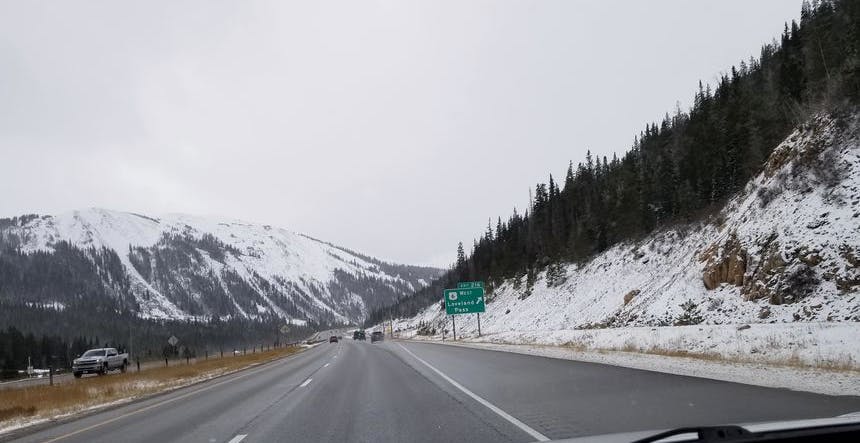 Highway 6 Loveland Pass Exit off I-70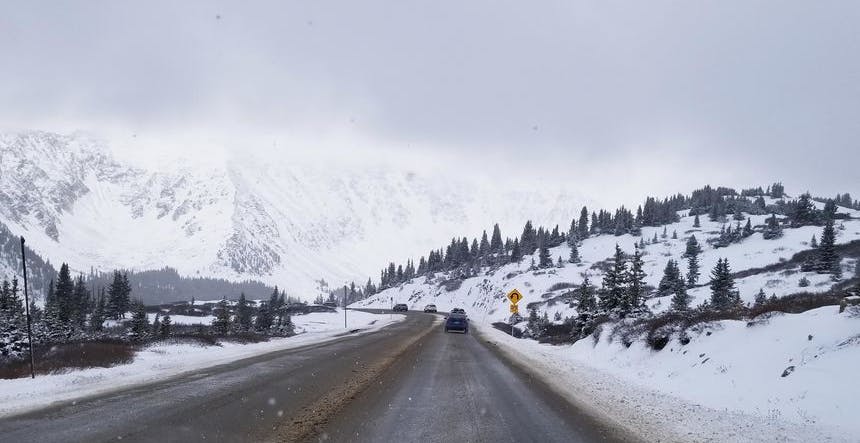 Highway 6 over Loveland Pass
When road conditions are deemed unsafe, the Colorado Department of Transportation (CDOT) closes the road to Loveland Pass just beyond the Loveland ski area parking lot. Don't worry, if you exited I-70 and find the gate closed, you can turn around near the entrance to Loveland Ski Area. There is an on-ramp to get you back onto I-70 westbound. Just be careful because you may need to accelerate quickly here with oncoming traffic and the merge lane is short! This area leading up to the tunnel can be very slippery at times from melting and refreezing ice and hard packed snow. Drive according to the conditions.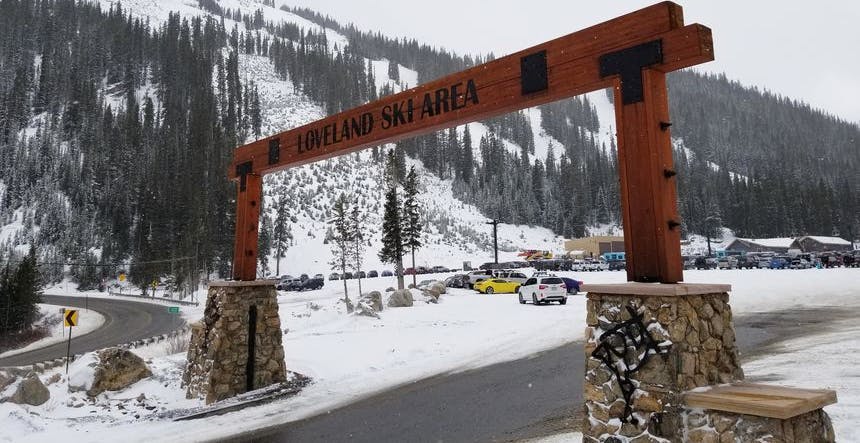 Loveland Ski Area entrance
When the pass is closed due to poor road conditions, those same trucks are cued up outside the Eisenhower Tunnel, and at the top of the hour, all traffic is stopped while those trucks are allowed to pass through the tunnel. This typically lasts 15 minutes. During heavy traffic conditions, CDOT will perform metering, stopping traffic for about 20 minutes to break up the flow. If you're heading further west to resorts like Keystone and Breckenridge, I recommend just staying on I-70. Unless of course, you're interested in snapping a photo from atop the U.S. Continental Divide and don't mind the altitude.
Eisenhower Tunnel To Breckenridge & Copper Mountain via Silverthorne, Dillon & Frisco
As you pass through the Eisenhower Tunnel, take in the stunning view of Summit County before the I-70 descends into the towns of Silverthorne and Dillon. This is the start of Summit County, which plays host to major destination resorts like Keystone, Breckenridge, and Copper Mountain.
Dillon Reservoir on Highway 6, northbound from Keystone to Dillon
Silverthorne, Dillon and Frisco
Silverthorne and Dillon offer all amenities for the weary traveler and are a great stop for fueling up. Here you'll find several ski rental shops, a wide variety of eateries, and even outlet stores where you can shop to your heart's content! This makes Silverthorne and Dillon a sensible base to explore multiple ski resorts without the higher-priced lodging rates of the destination resorts. Wildernest Vacation Rentals is one of the largest vacation rental providers in the area and they offer a wide spectrum of lodging from condos to homes.
Staying in Frisco is another option, approximately 5 miles further down I-70 westbound. Frisco also offers a variety of places to eat, refuel, and even a tubing hill at the Frisco Adventure Park.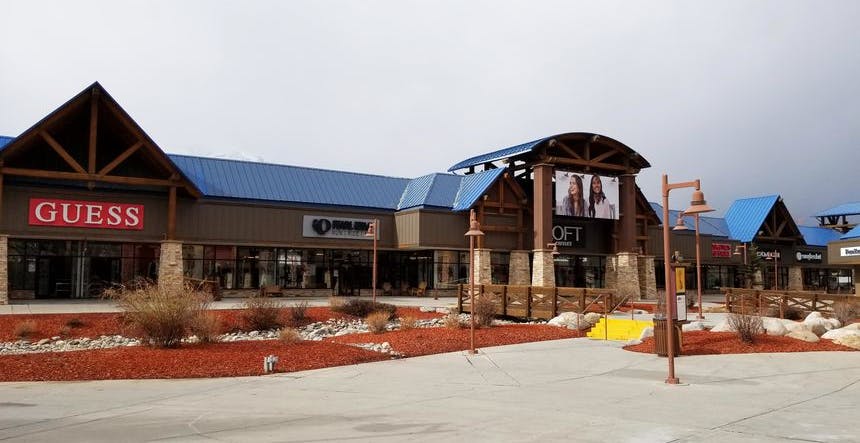 Outlets at Silverthorne
If shopping isn't your thing, wintertime fly fishing is a great aprés ski activity in this area with Gold Medal fishing on the Blue River flowing out of Dillon Reservoir. You can even fish while the family watches you from the Outlets at Silverthorne! For expert guiding instruction and supplies, Cutthroat Anglers in Silverthorne have been a long established guiding outfitter in the area. Alternatively, if you prefer your fish in tacos, I highly recommend Chimayo Mexican Grill in Dillon for great fish tacos and other comfort foods!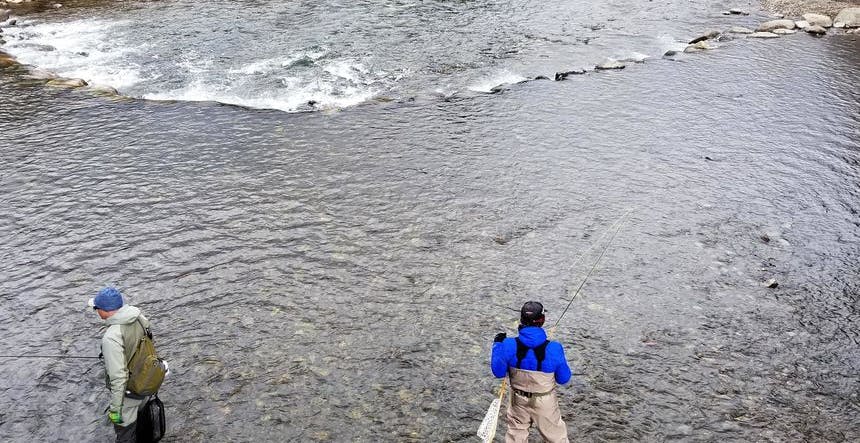 Fly fishing at Silverthorne
Breckenridge
There are two routes off I-70 that will take you to Breckenridge. The first exit is Highway 6 in the Silverthorne/Dillon area. The second exit is Highway 9 at Frisco. I highly recommend taking the second route via Highway 9 in Frisco, especially if weather conditions are bad. This way, you avoid the steeper and curvier roads on Highway 6 to Route 1, as it wraps around the southern end of Dillon Reservoir before intersecting with Highway 9 en route to Breckenridge.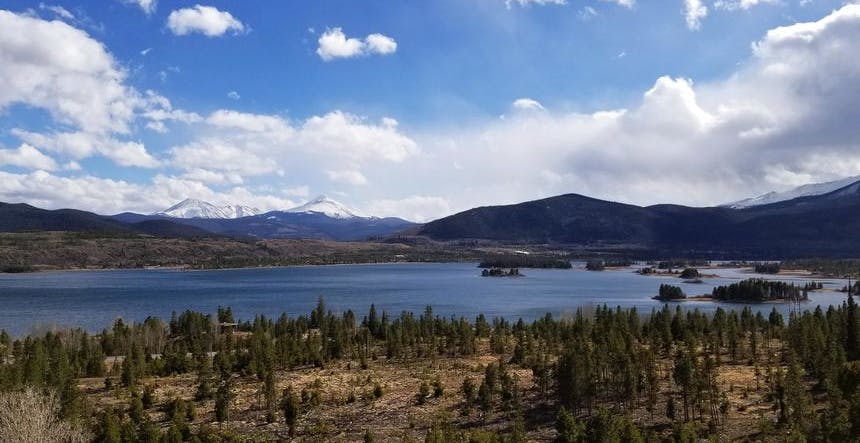 View of Dillon Reservoir from I-70
Copper Mountain
Proceeding on I-70 westbound, after passing Frisco, you will reach Copper Mountain. Stay alert because the beautiful Ten Mile Canyon, you pass through to reach Copper Mountain, is deceptively sloped, leading to many cars sliding off into the ditches if you're not careful. Black ice conditions often develop when warm melting days are followed by a cold snap and snowfall, so take your time passing through this short canyon. The exit for Copper Mountain is on your right (exit 195 and merge onto CO-91). The resort sits on the left side of I-70 as you head onward to Vail or Beaver Creek. If you're running low on fuel, this is the last gas station until you make it over Vail Pass and arrive at Vail Village.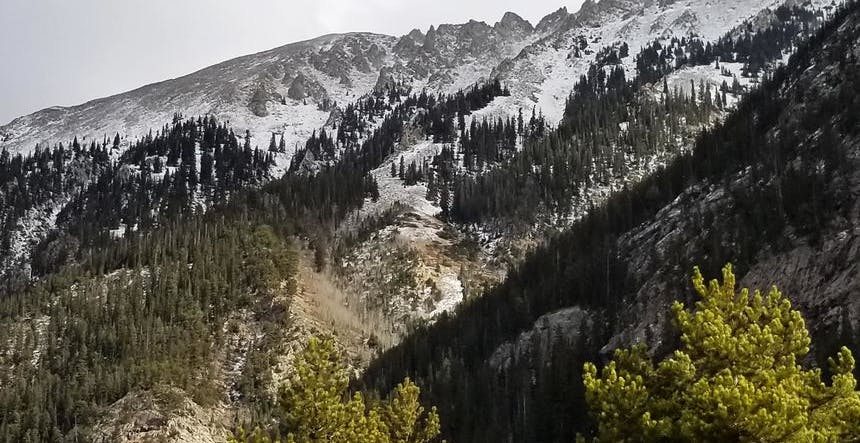 Ten Mile Canyon between Frisco and Copper Mountain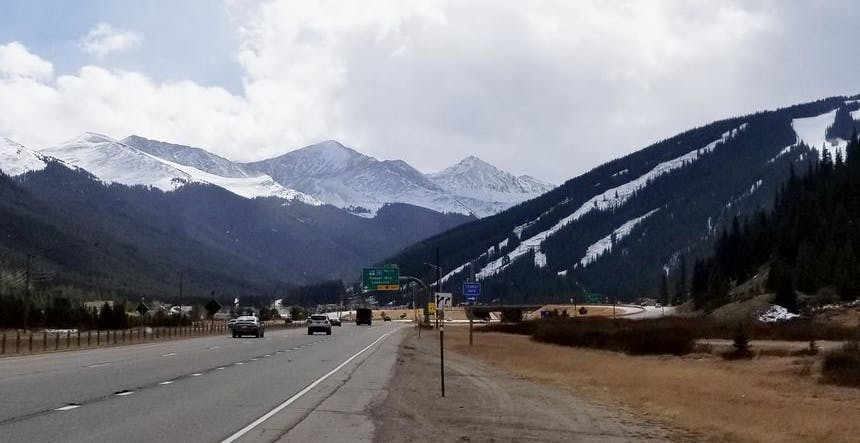 Copper Mountain exit westbound
Vail Pass to Vail Ski Resort and Beaver Creek
After passing Copper Mountain, I-70 begins to climb to the Vail Pass summit of 10,662 ft. The uphill climb is gradual, but be careful as it descends much more rapidly than many realize. Before you know it, you can be speeding out of control on icy or snow packed conditions. This is why Vail pass is often the location of many accidents that shut down the interstate (in at least one direction). There are only two lanes here, so be prepared for semi-trucks doing the bob and weave. Just lower your gear and enjoy the cruise down into Vail Valley. This is also a very popular area for snowmobilers.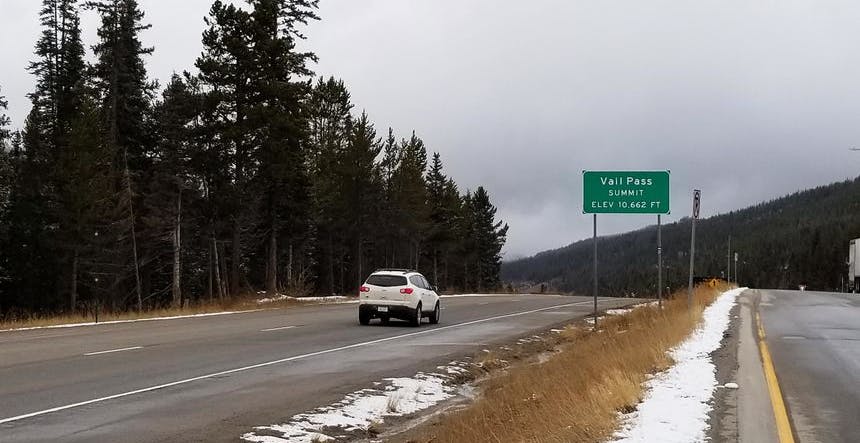 Vail Pass summit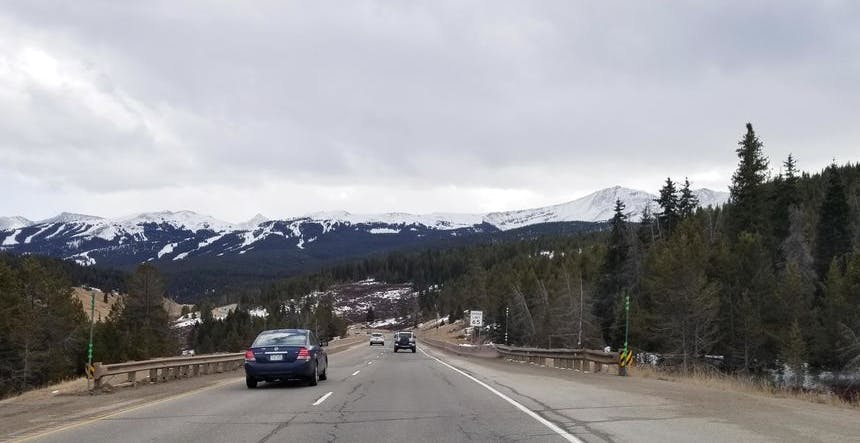 I-70 eastbound from Vail pass view of Copper mountain
Vail and Beaver Creek
Further west down I-70, the next two destination resorts you come to are Vail, followed by Beaver Creek. If you exit at either of these locations, be careful through the roundabouts because not everyone is familiar with the right of way.
If you stop in Vail, pay attention to where you decide to park, because parking can be quite pricey there. You can get the official parking details here.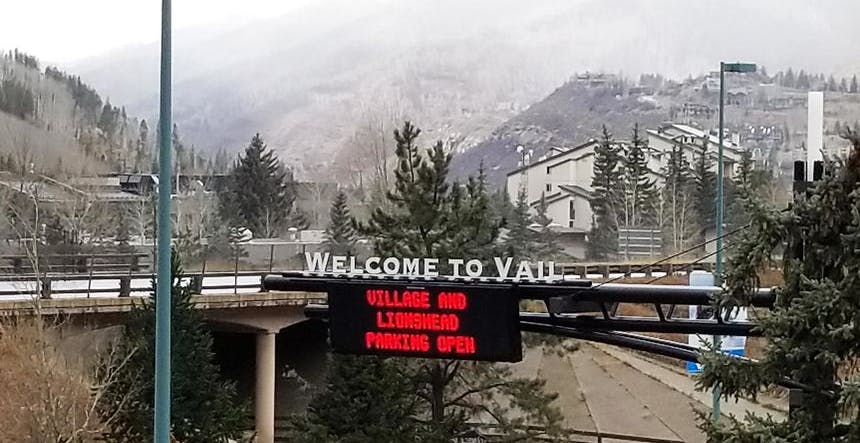 Vail Village main entrance
If Beaver Creek is your destination, lucky you! I personally love the mountainside village at the base of Beaver Creek and the service quality that abounds in this upscale ski village. If neither Vail nor Beaver Creek is your final destination, you don't need to refuel or eat here, especially if you're on a tight budget. I much prefer to continue on to the town of Edwards or even Eagle. It's a more residential community with a greater variety of economical dining choices and fuel stops. As an added bonus, access in and out of Edwards or Eagle will be much less congested than Vail or Beaver Creek.
Beaver Creek to Glenwood Springs
The traffic flows much more freely by the time you reach the Beaver Creek area and remains that way all the way until the start of Glenwood Canyon. Here the road narrows and becomes much curvier. While this section is fairly flat, many will travel through this part of I-70 well above the posted speed limits. There is also a change in scenery, where the views are very different from what you're used to on the I-70. Glenwood Canyon is simply gorgeous. If your vacation plans don't include visiting Moab in Utah or the Grand Canyon in Arizona, then this is as close as you can get (although in Glenwood Canyon, you'll be looking upwards instead of downwards into the river erosion created canyon).
Glenwood Springs
Finally, some 182 miles and I'll say 3 hours minimum from DIA (closer to 5 hours during winter), the I-70 brings us to the town of Glenwood Springs. It is home to amazing limestone caves, hidden in that mountain to your right. If you have time, I highly recommend visiting the caves which offer a tram ride to the top and guided tours.
The town also reopened the Grand Avenue Bridge in 2017 which was the largest project on the Western Slope in 25 years! The bridge doesn't really have any effect on traffic flowing on I-70 passing through Glenwood Springs. You should also expect lane closures during off-peak hours.
More Tips for Driving on I-70
Allow extra time back to Denver International Airport
I don't know how many times I have been riding up a chairlift in the late morning when someone asked me, "So, when should I leave here to get to Denver International Airport (DIA) for my 1:00 pm flight?" to which I reply, "When is the next flight?".
Driving back to the airport isn't as simple as it seems. People often think they are invincible while driving on ice because their car is an AWD. They don't account for road construction which can see extensive lane closures during peak skier traffic windows. Then there's the time taken to return the rental car...assuming you don't need to stop for fuel. I haven't even touched on the unforeseen delays inside the terminal.
You can use Google Maps to estimate times, but it's not going to look the same on weekends, or holiday weeks, not to mention road conditions. One wise thing you could do upon your arrival at DIA is to time how long it takes you from the moment you walk out of the terminal to when you drive out of the rental car lot. Allow at least that much time as a minimum for your return trip. Keep in mind, there might be many others trying to return their car too. Most destination skiers headed to the mountains arrive at a variety of times and days of the week, but most leave on Sunday, and it may seem as though they are all hired from the same rental lot when you're running late for your flight!
Arrive and Depart Mid-Week
So, my most valuable tip would be to arrive mid-week and depart leave mid-week to avoid the stress and crowds. Even a Monday departure is better than Sunday. When I owned a condo in Silverthorne, we knew we needed to be on I-70 heading back to Denver by noon or face the dreaded I-70 Shuffle! That was 5 years ago! Most Sunday skiers will try to ski a long morning, rush to the car, and grab a quick bite on the road, which puts them on I-70 by 2:00pm at the latest.
By planning a weekday departure, you will get to enjoy skiing a much less crowded slope on Monday. Even Sunday afternoons will present wonderful opportunities for skiing in solitude, while the majority are rushing to beat the traffic home. This is particularly great for international visitors looking to avoid the local crowds who work during the week.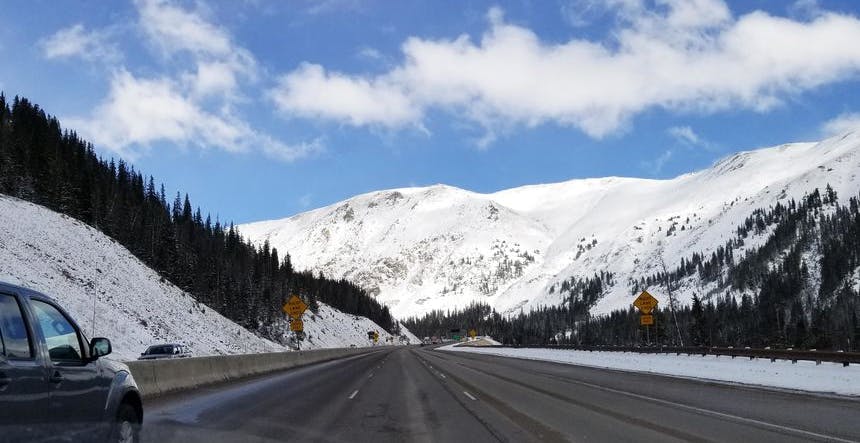 I-70 Eastbound from Silverthorne approaching Johnson Tunnel
Tips for driving in winter conditions
The weather patterns can play a significant role in the road conditions up and down the I-70 corridor. You might have a heavy accumulation of snow and ice on the interstate just above Golden and then clear dry roads above Georgetown or even Idaho Springs on occasion. This occurs when there are "Upslope Conditions" in Denver and the Front Range area. This is when the warmer air is being pushed from the east into the rising mountain range, resulting in heavier snowfall in the lower elevations across the Front Range and often much less (if any) snowfall up in your ski destinations. Fortunately, these make for the best bluebird days up at the ski resorts.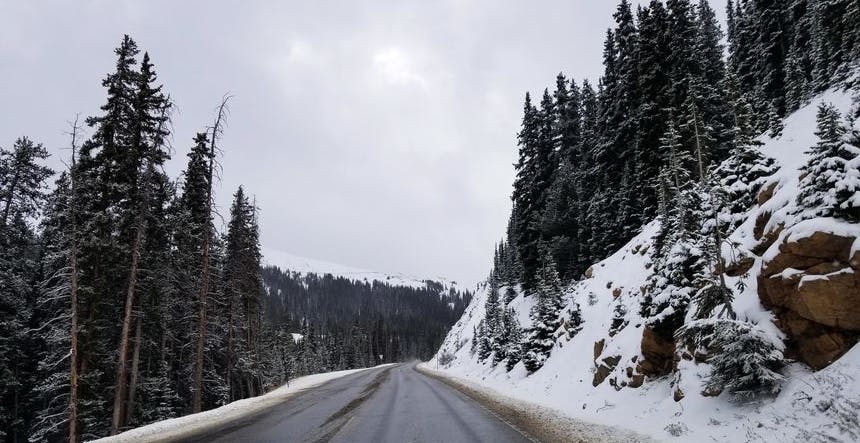 Clear roads on highway 6 over Loveland pass
CDOT does an amazing job of caring for our roads, but as an early riser, I may be ahead of the majority of snow-clearing equipment. The roads are tougher, but the trade-off is that you've got the road to yourself. For me, this is a good deal. I trust my snow-driving habits. It's the other guy I'm not sure about.
A great idea is to check up on CO Trip for road conditions before you drive out. You can pull up a map of the I-70 Corridor or any other road in Colorado to see where certain cameras are mounted and bring up live video of the conditions. It gives you an idea of the state of the road, traffic, and snow. When there's a blizzard down in the Denver area, you definitely need to see if it's just as bad up on the I-70. Of course, they only help if traveling in daylight. You will also find "travel alerts" on this website which warn you of road closures or major accidents. Be sure to review CDOT's winter driving regulations which include chain carry rules if not in an AWD or Four-Wheel Drive Vehicle and safe tire tread depth requirements.
That's it from me! I wish you all a great season and if you're going on a ski vacation to Colorado this winter, make sure you drive safely!