Copper Mountain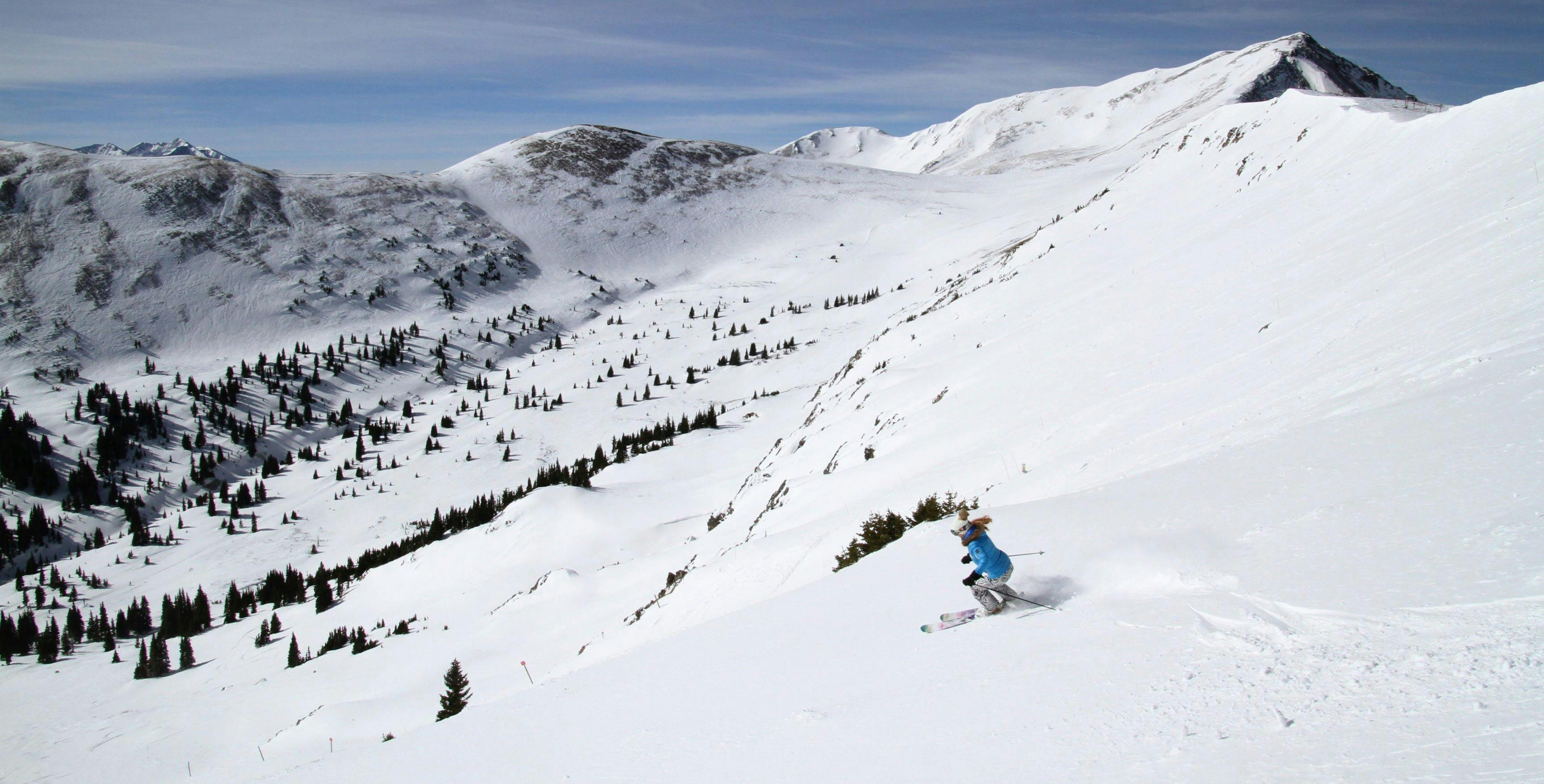 We have put together a list of everything you need to know about Copper Mountain.
Copper Mountain is best known for its naturally divided terrain catering to different skill levels and its convenient proximity to Denver. It is home to several terrain parks as well as the Woodward Copper training facilities.
Ski Terrain
Beginner runs: 21%
Intermediate runs: 25%
Advanced runs: 36%
Expert runs: 18%
Total ski runs: 142
Terrain Parks: 6
Mountain Statistics
Summit elevation: 12441 feet
Skiable area: 2507 acre
Average Snowfall: 305 inches
Copper Mountain Trail Map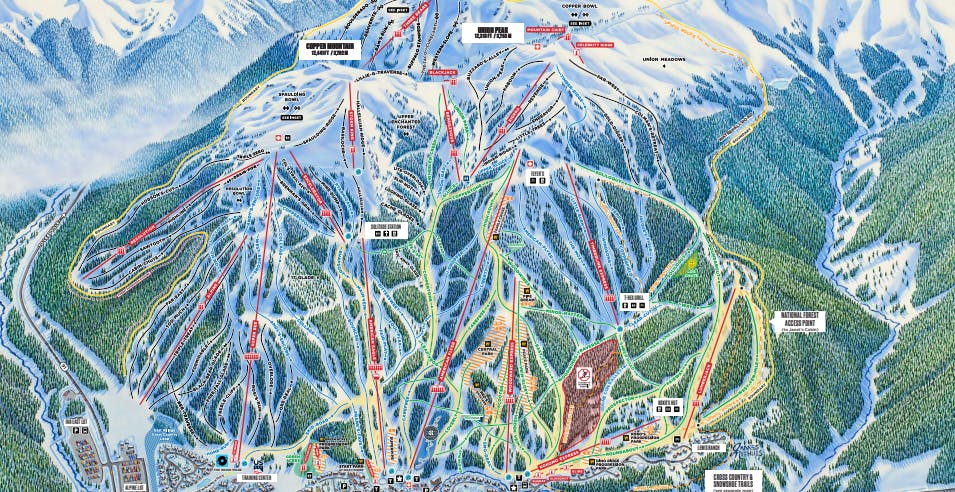 Copper Mountain Lift Tickets
Copper Mountain can be accessed on several different types of lift tickets. Below is a breakdown of the types and differences.
Day Lift Ticket
Day lift tickets can be purchased online or at the ticket office. When purchased online, you can redeem the lift tickets at a pickup box in the resort. You will receive a reloadable Copper Card that can be used for future ski trips. Children 4 and under can ski free.
Available for purchase: During the ski season
Cost: Usually the most expensive option, ranging from roughly $130-$180 for 1 day adult (prices are subject to change)
Ideal for: Last minute ski trip to Copper Mountain
Season Passes
Copper Mountain has 2 types of season passes and 1 add-on option. These passes are available for purchase pre-ski season until around the end of November.
Copper Season Pass: Unlimited lift access all ski season at Copper Mountain, plus free ski days at selected partner resorts. Cost is $799 for an adult pass (2023-24 price, subject to change). This pass is ideal for those who plan to ski at least 10 days at Copper Mountain throughout the ski season. 
Four Pack: Four days of access throughout the ski season without blackout dates. Cost is $399 (2023-24 price, subject to change). This pass is ideal for people who plan to ski 4 days at Copper Mountain. 
Fast Tracks Season Pass Add-on: This add-on pass gives you a 30-minute early access on the American Eagle lift and express lift lanes. Cost ranges from $199-$749 (2023-24 season, subject to change). 
Ikon Passes
You can access Copper Mountain on all 3 types of Ikon Passes. The differences are highlighted below. 
Ikon Pass gives unlimited access to 15 resorts and up to 7 days each at 40 ski resorts with no blackout dates throughout the ski season. This pass gives unlimited and unrestricted access to Copper Mountain. It is ideal for people who will be skiing at multiple resorts.
Ikon Base Pass gives unlimited access to 14 resorts and up to 5 days each at 34 resorts with blackout dates for some resorts. This pass gives unlimited and unrestricted access to Copper Mountain. It is cheaper than Ikon Pass so it is ideal for those who do not require access to all Ikon resorts.
Ikon Session Pass has the option of 2, 3 or 4 total days of access at 40 resorts, including Copper Mountain, with blackout dates. This is ideal for those who want some flexibility in resort access and will be skiing the selected days on the pass at Copper Mountain (or other Ikon resorts).
Copper Mountain Ski and Snowboard Lessons
Copper Mountain Ski and Snowboard School offers group lessons, private lessons and seasonal programs. Lessons are available for ages 3 and above.
Youth Group lessons (Aged 3-17): Lessons will include snacks and lunch. Age 3-5 lessons will also include lift tickets. The lesson is a full day from 9:30am - 3pm.
Private lessons: These customized lessons accommodate up to 4 people for half-day lessons and up to 6 people for full-day lessons.
Seasonal Programs: Copper Mountain offers several programs such as Over the Hill Gang (Ages 50+), Women's Wednesdays (Ages 18+), Copper Ski & Snowboard Sessions (Ages 4-12), and more. These programs are ideal for improving skills through multiple sessions as well as socialise with other skiers/riders.
Important things to know:
It is highly recommended to book lessons in advance as spots are limited. Bookings open in late summer.
Lift tickets and rentals are not included in the price for most lessons. Discounted lift tickets add-on is available with a purchase of a lesson.
Nearest Town to Copper Mountain
Copper Mountain has a ski village at the base of the mountain, which is approximately 75 miles from Denver. The village has a family-friendly atmosphere and is equipped with dining, shopping, parking, and also other winter activities like ice skating, snowmobiling, and tubing. The village is close to other major Colorado resorts including Vail Ski Resort, Breckenridge, and Keystone. 
Copper Mountain has lodging available in three village areas:
Center Village is the main area filled with dining, entertainment, and lodging options. You can access all types of terrain via the American Eagle Gondola and American Flyer chairlift. 
East Village gives access to advanced and intermediate terrain on the Super Bee chairlift. There are some lodging options including condos and townhomes as well as a few dining and shopping options. The parking lots are close to the village too.
West Village gives access to the most beginner terrain and is home to Copper's ski school. Lodging options are limited in this area.
Overall the lodging options in Copper Mountain are either ski-in-ski-out or within a convenient 10 minute walk from a chairlift. See Copper Mountain ski-in-ski-out lodging for more information.
Copper Mountain has several highly-rated dining options on-mountain.
T. Rex Grill
Located at the base of Timberline Express
Opening hours (subject to change): 9:30am - 2:30pm (Mon-Sun)
JJ's Rocky Mountain Tavern
This tavern is located at the base of Super Bee chairlift. It has American food, a bar and sometimes live music.
Opening hours (subject to change): 10:30am - 5pm (Sun-Thu), 10:30am -  8pm (Fri-Sat)
Solitude Food Grille
This bar and grill restaurant is located at the top of the American Eagle chairlift.
Opening hours (subject to change): 10:30am - 2:30 pm (Mon-Sun)
Copper Mountain Contact Information
Address: 509 Copper Road, Copper Mountain, CO 80443
Phone number: (866) 656-1546
Frequently Asked Questions
Are there ski packages to Copper Mountain?
When is the best time to go skiing in Copper Mountain?
January to March is usually the best time to go skiing at Copper Mountain with plenty of good quality snow. However, avoid the public holiday dates for lower crowd levels. Spring skiing is also an option during early April though parts of the terrain may be closed due to their southern-facing exposures.
What amenities are available at Copper Mountain?
Copper Mountain has several rental shops, a free shuttle service, ski storages and parking lots. There are many winter activities including Rocky Mountain Coaster, tubing, sledding zone and snow maze.
How much does it cost to rent ski equipment at Copper Mountain?
For the most basic ski/snowboard package, the cost starts from $75 per day for adults (walk-up rate) and $45 per day for juniors 12 and under. Helmets can be rented at an additional $12 per day for adults, but it is included for free in the junior rental packages. Please note these prices are subject to change.
Further and Related Readings