What to Pack for a Ski Trip

Written by Jack Lee
Last updated July 24, 2023
Not sure what to buy, borrow or bring from home for your ski vacation? Here's a lowdown of all the essentials you need to pack for a ski trip. Or if you need a comprehensive packing checklist, see our Ski Trip Packing List. 
Ski gear is expensive so if you're a first-timer then rent your skis or snowboard, ski boots and ski poles otherwise, pack it.
Nothing ruins skiing quite like getting wet so make sure you pack the right ski clothing to stay dry. Again, first-timers can rent or borrow a ski jacket but if you're looking to get your own then there are two key things to look out for: waterproof rating and breathability. 
The waterproof rating of a ski jacket indicates its ability to resist water penetration. It is typically measured in millimeters (mm) and indicates the amount of water pressure the fabric can withstand before water starts to seep through. The higher the number, the more waterproof the ski jacket and the drier you'll be.  
Here's a general breakdown of common waterproof ratings and their corresponding levels of protection:
10,000 mm - Able to withstand light rain and average snow, and is suitable for Piste skiing.
15,000 mm - Usually able to withstand moderate rain and average snow without getting wet. This is suitable for Piste skiing.
≥ 20,000 mm - Extremely waterproof and able to withstand heavy rain and wet snow. This is suitable for Backcountry skiing.
Breathability is also essential, it is referring to its ability to allow moisture/sweat to escape the ski jacket keeping you nice and dry. It is typically measured in grams per square meter (g/m²) and indicates the fabric's ability to transport moisture away from the body.
Here are some common breathability ratings and their corresponding levels of breathability:
5,000 g/m²: provides moderate breathability, suitable for Piste skiing.
10,000 g/m²: provide good breathability, suitable for Piste and side-country skiing.
15,000 g/m²: provide excellent breathability, suitable for side-country skiing.
>20,000 g/m²: offers exceptional breathability, suitable for Backcountry skiing.
Ski Jacket
A ski jacket is a specialized type of winter jacket designed specifically for skiing or snowboarding. Ski jackets are crafted with features and materials that cater to the demands of winter sports in cold and snowy conditions. There are three main types of ski jackets: 3-in-1 ski jackets, shell jackets  and insulated jackets.
3-in-1 Ski Jackets
A 3-in-1 ski jacket includes an outer shell, an insulated mid-layer and an inner shell. The outer shell is typically waterproof or water-resistant, providing protection against snow, rain, and wind. It often features a durable and breathable fabric to keep you dry and comfortable. The insulated mid-layer is designed to provide warmth and insulation, usually with synthetic insulation or down filling. The inner layer is a lightweight fleece or softshell jacket, it provides additional warmth and moisture-wicking properties to keep you comfortable during active pursuits. The 3-in-1 ski jacket offer flexibility and allows you to adapt to different weather conditions, each layer can be worn together or separately.
Shell Jackets 
A shell jacket is an uninsulated outer protective ski jacket designed to provide protection from the elements while allowing for layering underneath. There are softshell jackets and hardshell jackets. Softshell jackets are made from flexible, stretchy, and breathable materials. While softshell jackets offer some level of water resistance and windproofing, they are not as fully waterproof or windproof as hardshell jackets. Hardshell jackets are typically constructed with a rigid and durable outer layer. They are made from waterproof or water-resistant fabrics with sealed seams to provide maximum protection against rain, snow, and wind. Hardshell jackets are highly versatile and suitable for a wide range of outdoor activities, particularly useful in inclement weather or alpine environments. 
Insulated jackets
Insulated jackets are designed to provide warmth and have built-in insulation, typically made of synthetic materials. The insulation helps trap body heat to keep you warm on the slopes. Insulated jackets offer varying levels of insulation, measured in grams. Higher gram ratings indicate thicker insulation and greater warmth. 
Ski Pants
Waterproofing is essential for ski pants as they get more snow on them as you fall over, sit on chairlifts or sit on the snow waiting for your friends. Pants with mild waterproofing will be between 5,000 to 10,000mm while those with very high waterproofing will be over 20,000mm. The same rules apply to ski jackets: rent or buy if it's your first time.
I've said this before and I'll say it again; avoid cotton. It will get wet from sweat or snow and then you will get cold. Very quickly. Leggings or even yoga pants will probably suffice for a few days but if you want to guarantee comfort, opt for a good pair of thermal leggings. Again, wear wool or synthetics.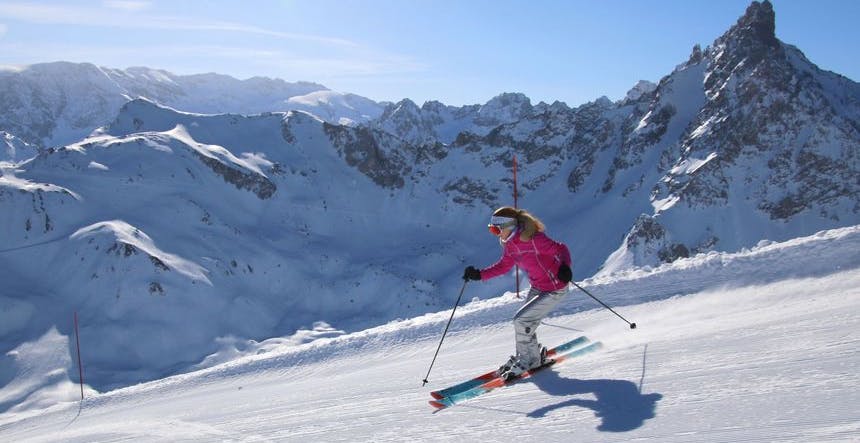 Be sure to check the waterproof and breathability rating if you're buying ski pants
Helmet
A helmet is the most important item you will wear on the mountain.It can significantly reduce the risk of head injuries and provide protection during accidents. If you don't want to buy one or if you forget to pack yours, you can rent one in most ski resorts.
Goggles
You need goggles to avoid glare, increase visibility and they're important for protection from the cold, wind or debris. Different lenses are available for various light conditions, such as low-light or sunny conditions. Some ski goggles offer interchangeable lenses, allowing you to swap lenses based on weather conditions.
Neck Warmer
Always bring your neck warmer or gaiter; is a versatile accessory that provides warmth and also helps block out wind, and snow, and protects your skin from UV rays. Neck warmers are small enough to shove in your ski jacket if it gets too hot so really there's no excuse for not packing it. Neck warmers range from a thick fleece material to a more lightweight microfiber material. Both do the job.
Ski Gloves
Or mittens. Snowboarder tend to wear mittens with an inner layer (as they are more likely to be in contact with the snow) whereas skiers may prefer the maneuverability that gloves offer. Just make sure they're waterproof and insulated.
Socks
Could be the difference between a good day or a bad day. Get a good pair of socks, either a tall woolen pair or if you're vegan/environmentally conscious, opt for some eco socks made from Tencel that will still keep your feet warm and dry! Also, make sure you don't let your socks bunch up under your boots- it will make your foot go numb. 
Protective Gear
If it's your first time skiing or snowboarding then you've probably been warned about how much you will fall. Knee pads are a great starting point. Snowboarders, you'll probably be falling a lot more, especially on your bottom. Padded impact shorts can be worn internally over your thermal pants while external bum pads can be worn externally. Wrist guards are also ideal as newer skiers and snowboarders put out their hands when falling (a big no-no).
Back Pack
Bring a small backpack. This isn't necessary but is helpful if you do decide to ditch layers. You can also then pack some snacks, water, and camera. You can also fit in the little items that you usually fit in your ski jacket such as tissues, sunscreen, lip balm and hand warmers.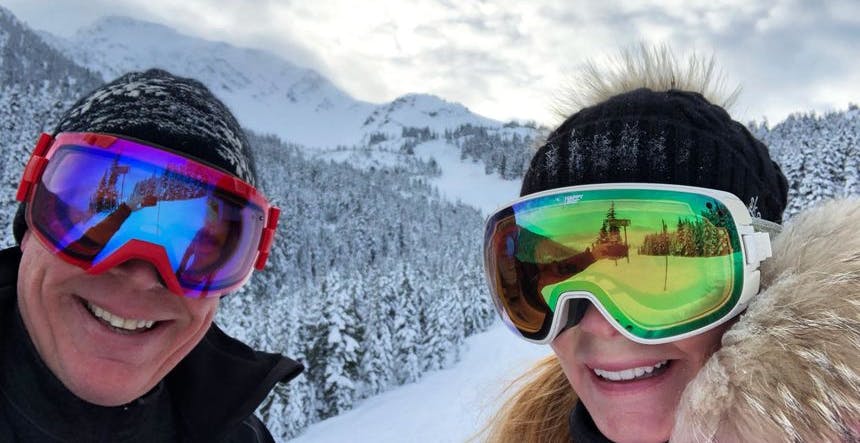 Whether you have all-rounders or interchangeable lenses, goggles are a must for any ski trip
A warm winter jacket and a few layers should suffice once you're off the mountain. Pack a few casual tops and jumpers to mix and match along with long pants for après ski. Gloves and a warm winter hat or beanie will also help keep you warm. Ladies, dress it up with a nice scarf. Most importantly, bring waterproof non-slip shoes, boots or trail shoes for walking around the village.
Got everything on this list? Then see our Ski Trip Packing List for a comprehensive checklist.